Meezan Bank recently disallowed the payment for Netflix application, calling it "non-Shariah compliant".
The bank's decision has left many of its customers, who can no longer pay their subscription fee through Meezan Bank, agitated and confused, with some taking to social media to express their frustrations.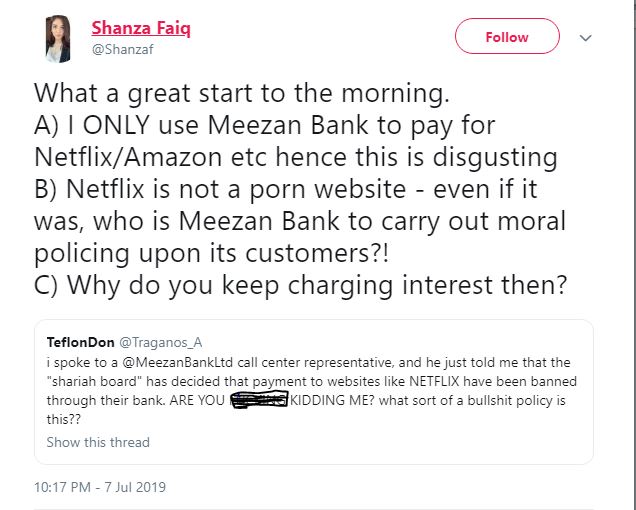 The news surfaced when Meezan Bank barred a user from paying for Netflix through his bank card.
According to a BBC Urdu report, the premier Islamic bank told a user, Muhammad Ahmed Tariq, that he could not pay to Netflix through his bank card, as the service is not in line with Shariah. The bank also did not allow Ahmed to pay for a music app.
Meanwhile, another report explained the reason why Meezan Bank blocked payments to Netflix.
As per the regulations and Sharia Compliance Guidelines of State Bank of Pakistan, Meezan Bank cannot provide any product or service that is not in line with the guidelines of Shariah.
Netflix, an online subscription service for movies and videos, also falls under the category of entertainment services that are not allowed in Sharia. The report stated that "the bank was required to block Netflix as part of its regulatory and Sharia compliance requirement."
As per the guidelines provided by Sharia experts, most Islamic banks are required to restrict their card from usage in casinos, bars, gambling, cinemas, etc. Accounts and financing services are also not provided for these professions. Certain entertainment activities and vendor categories are also blocked at Visa or MasterCard level.
Similarly, the report stated, it is the same for debit card users, the terms and conditions of the debit card restrict its use on non-compliant products or services. The bank can also restrict or cancel the card if it is used for similar services or products.