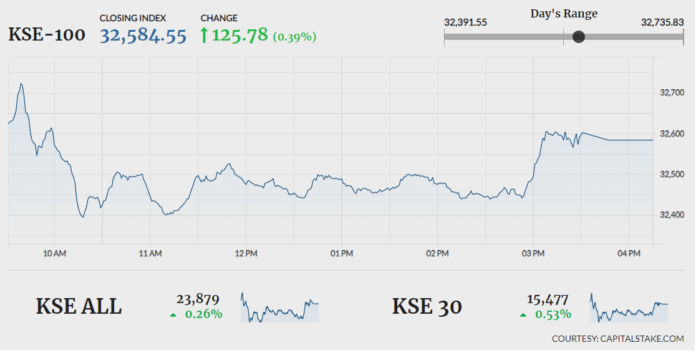 KARACHI: Investors of the Pakistan Stock Exchange (PSX) endured a volatile trading session on Monday, as the indices kept oscillating in both directions before settling in green.
On the political front, Prime Minister Imran Khan is currently on a three-day official working visit to the United States where he is scheduled to meet US President Donald Trump today (Monday).
Meanwhile, the International Monetary Fund (IMF) has projected Pakistan's exports to increase to $36.7 billion in the next five years (by FY2023-24). The current account deficit (CAD) will also see a decline from $19.9 billion in FY2017-18 to $6.95 billion in the current fiscal year and $5.49 billion in FY2020-21, it stated.
Accumulating 277.06 points, the KSE-100 Index touched its intraday high of 32,735.83. It then drove in the reverse direction to reach its day's low at 32,391.55 (down by 67.22 points). The index finally closed higher by 125.78 points at 32,584.55. The KMI-30 Index appreciated by 300.51 points to end at 51,305.03, while the KSE All Share Index gathered 62.92 points, settling at 23,878.68.
The oil and gas exploration sector ended as the major contributor to KSE-100 as it added 47.41 points to the index, whereas the food and personal care products sector dragged it lower by 15.17 points.
The overall trading volumes were recorded at 44.68 million, of which 38.19 million came from the KSE-100 Index scripts. Maple Leaf Cement Factory Limited (MLCF -2.88pc), TRG Pakistan Limited (TRG -1.15pc) and Pak Elektron Limited (PAEL -2.34pc) topped the volume chart. The scripts had traded 4.42 million shares, 3.77 million shares and 2.81 million shares respectively.
The refinery sector ended the session as major a gainer (+1.90pc) on Monday. Byco Petroleum Pakistan Limited (BYCO +3.17pc), Pakistan Refinery Limited (PRL +1.59pc) and Attock Refinery Limited (ATRL +0.86pc) closed with decent gains.
The oil and gas marketing sector added +1.35pc in its cumulative market capitalisation. Hascol Petroleum Limited (HASCOL +2.33pc), Sui Northern Gas Pipeline Limited (SNGP +1.93pc), Pakistan State Oil Company Limited (PSO +1.58pc) and Attock Petroleum Limited (APL +1.70pc) all ended the session in green.