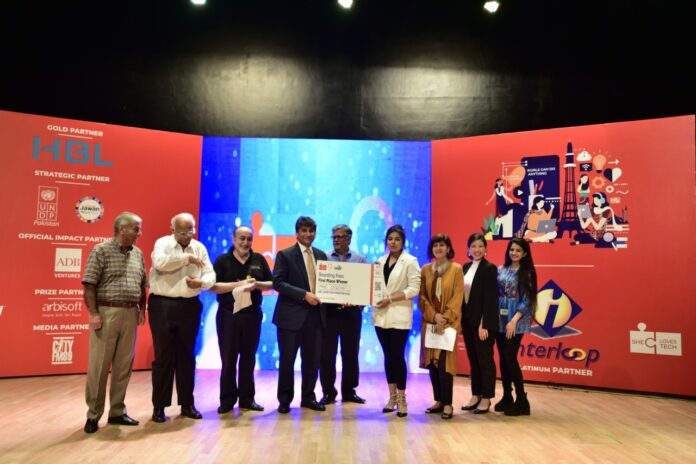 LAHORE: The final round of She Loves Tech Pakistan 2019 took place on August 3rd at Karachi Arts Council supported by strong partners like Interloop Limited, Habib Bank Limited and UNDP Pakistan, where DOT-Mind Unlocked won the final slot.
DOT-Mind Unlocked is a startup that has developed a headset that reads brainwave activity to diagnose and treat mental disorders such as ADHD more efficiently. Founder Yishel Khan won an Rs150,000 cash prize from Cargill and a trip to Beijing, China to compete in the Global Round for a $15,000 equity-free cash prize.
The first runner up was PSSEC (Pakistan Space Science Education Centre) which offers hands-on, project-based learning experiences themed around space science to encourage STEM education in Pakistan and co-founder Zartaj Waseem won Rs.75,000 from ArbiSoft. The second runner up was The Mad Hatters which is a female-led platform to allow travellers (especially female) to explore the culturally rich part of Pakistan with ease and guidance. For this, Aneeqa Ali won Rs.50,000 from E.Ocean.
After competing locally, 12 tech startups led by women from all over Pakistan gathered in Karachi for the national finals. Inspiring female entrepreneurs presented their ideas to a panel of judges who then decided the final winner who will travel to Beijing, China in September to compete in the global finals.
She Loves Tech is the world's largest women and tech startup competition focused on businesses either led by women or that impact women. It was launched in Pakistan in 2017 by CIRCLE, a social enterprise dedicated to advancing women's economic participation in Pakistan, to encourage women-led startups to showcase their work to a large audience.
Every year the national winner travels to China to attend the She Loves Tech Global conference to pitch their startup to an international audience as well as to participate in a boot camp. The conference is held in more than 20 countries and in over 4 continents and aims to provide female entrepreneurs with a chance to stand out in the entrepreneurial ecosystem.
The competition was designed to encourage women from diverse fields to participate. Issues in the fields of mental health, science, education, and tourism were all brought to the surface, as the participants discussed the challenges their companies address. Representatives from notable organizations including National Incubation Centers, NCCPL, and Ministry of Finance were present to encourage the women start-ups.
CIRCLE CEO and founder Sadaffe Abid said, "Technology is the future and with She Loves Tech we are encouraging women to believe in themselves and explore entrepreneurship and tech."
Meanwhile event chief guest, former State Bank Governor Dr Shamshad Akhtar who said, "In this time especially, we must rely on the muscle of our women to uplift and galvanise Pakistan's economy".