The State Bank of Pakistan (SBP) has delivered broadly in line with the Standard Chartered Bank's expectations so far in the current tightening cycle.
In the last Monetary Policy Committee meeting in July, the SBP said interest rate adjustments from "previously accumulated imbalances" were complete and that future monetary policy decisions would be data-dependent.
"We recently lowered our non-consensus oil price forecasts. We now see Brent averaging $66/bbl over the financial year 2019-20 (FY20), down from $79/bbl previously," the bank said in a statement.
As per the bank, lower global oil prices than previously expected mean domestic inflation in Pakistan is likely to be lower than previously forecasted. Keeping this in view, the bank lowered its FY20 CPI inflation forecast to 11.6pc (13.6pc prior).
Article continues after this advertisement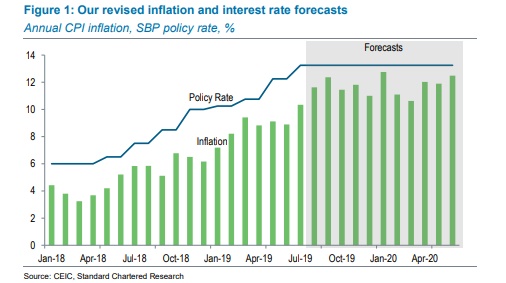 The bank continued, "Our revised inflation projections are in line with the SBP's forecasts of 11-12pc. As such, we no longer expect further rate hikes in FY20 and see the policy rate on hold at 13.25pc (15.0pc prior)."
During the MPC meeting, SBP had said that "unanticipated increases in inflation" could lead to "modest tightening", while weaker domestic demand and inflation projections could "provide grounds for easing monetary conditions".
"Although the economy is showing signs of slowing, we believe SBP's external account considerations are likely to preclude easing in support of the economy near-term," the statement read. "While the impact of the upcoming rebasing of the CPI index could mean higher or lower inflation (depending on new weights), the residual risk of further tightening includes evolution of second-round effects of reforms and pace of foreign exchange reserves build-up required under the International Monetary Fund programme."