The tale is an old one. Medicine is one of those things that all humans need, and that need is what has allowed it to turn into one of the largest, most lucrative, and powerful businesses the world over. Wherever it is, and it is everywhere, big pharma has sway. But there's always someone, a lawyer, or a government agency that decided every now and then they are no longer going to stand for pharmaceuticals pushing them around and doing as they will. After all, the regulation, or lack thereof, of medicine prices often has critical and fatal consequences.  
Recently, this old tale played out between the Competition Commission of Pakistan (CCP) and big pharma. The accusation against pharmaceutical giants in Pakistan are essentially the same as the accusations are against them all over the world: That the industry is colluding to engineer price hikes.
But much like the rest of the world, big pharma has money, and the power and influence that comes with said money. In the path of the CCP stands the industry's own body meant to represent and protect their interests. Pakistan's Pharma Bureau is an association and representative body of more than 20 multinational pharmaceutical companies. The Pharma Bureau has been campaigning for deregulation of the industry, and ascribe to the old libertarian argument that prices are best left determined by market forces, even for products as important as medicine. At the same time, it also vehemently denies any collusion between pharmaceutical companies and sit poised to respond to any such accusations. 
In the most recent episode, the CCP seems to have felt that sitting by passively was no longer an option. After receiving reports that they felt were conclusive enough to pursue the case, they went after the Pharma Bureau and the two bodies have been at loggerheads ever since. And while the CCP had felt strong about their case and wanted to pursue it, the cookie crumbled as was expected, with the CCP unable to gather enough information to take the Bureau to court. 
Despite this failure, however, the CCP seems to have taken the back and forth to heart, telling pharma companies not to rest easy yet, since they are still following the trace that they believe will lead them to an unholy alliance pharmaceutical companies to jack up medicine prices. 

But what exactly makes the CCP feel so strongly that the pharmaceutical industry is in cahoots with each other to keep prices on an upwards trajectory? And if they are indeed involved in such practices, what is their defense? If the pharma industry can come together in the form of the Pharma Bureau to represent their common interests, what is stopping them from working together to float prices up and cause mutual benefit? Profit, takes a look. 
Too good to be true? 
To hear the Pharma Bureau speak of it, there has never been an organisation as squeaky clean and well intentioned as they are. 
The rationale they provide for deregulation is that it is the only true way to bring down medicine prices and encourage competition. According to them, competition will increase healthily once the government stops intervening. 
And while they do admit that the government should be able to intervene to look into the quality aspect of medicine, that is as far as the government should be involved in regulating medicine. Full stop.   
Ayesha Tammy Haq is the Executive Director of the Pharma Bureau. She tells Profit that rather than controlling prices of all drugs, the government should come up with a reasonable 'Essential Drugs List' and control the prices . 
"The rest should be left to market forces to determine prices. Deregulation will ensure competition which will not just drive prices down but will also ensure quality," she said. 
One wonders, once more, why the pharma industry would want their prices to go down. Even if they are no colluding to drive them up, what would they get by suggesting deregulation if it will indeed drive the prices down? And if they are fine with prices going down, then what is the problem with the government fast tracking the process a little through regulation?
The back-and-forth
But as one industry expert explained to Profit, the argument is hogwash. According to the expert, that government controls drugs price by putting a cap that medicines shouldn't be sold above. The companies then have to compete with each other by selling their drugs below that cap, which is what actually drives drug prices down. 
"The government has kept a ceiling price, not a fixed price. There's plenty of space below the capped price to compete and bring down prices. Why aren't they competing?" they questioned. 

However, they said that profit-making is an important part of any given business."There has to be a balance. It is complicated of course, but a company should make profits by making it sustainable, and yet the government also has a responsibility to ensure that safe and quality drugs are affordable by the masses. This is what WHO (World Health Organization) recommendations entail." 
Currently, despite the fact that there are price controls, prices have shot up over the last three years. According to a drug-store owner, Mohammad Umair, there are drugs which have observed a tripling in price in this time. 
"There is a tablet box of Concor 5 mg, which was sold for Rs75 two to three years back and it is now selling at Rs234." The Concor medicine is now being produced and marketed by Martin Dow after it acquired Merck operations in Pakistan in 2016.  
"The medicines first vanish from the market and then it again comes in the market with increased prices," he added.
Another salesperson at a drugstore, Hasib Rafi, said that top companies like Abbott, Searle and GSK haven't increased prices as much as other smaller companies did since this government came in.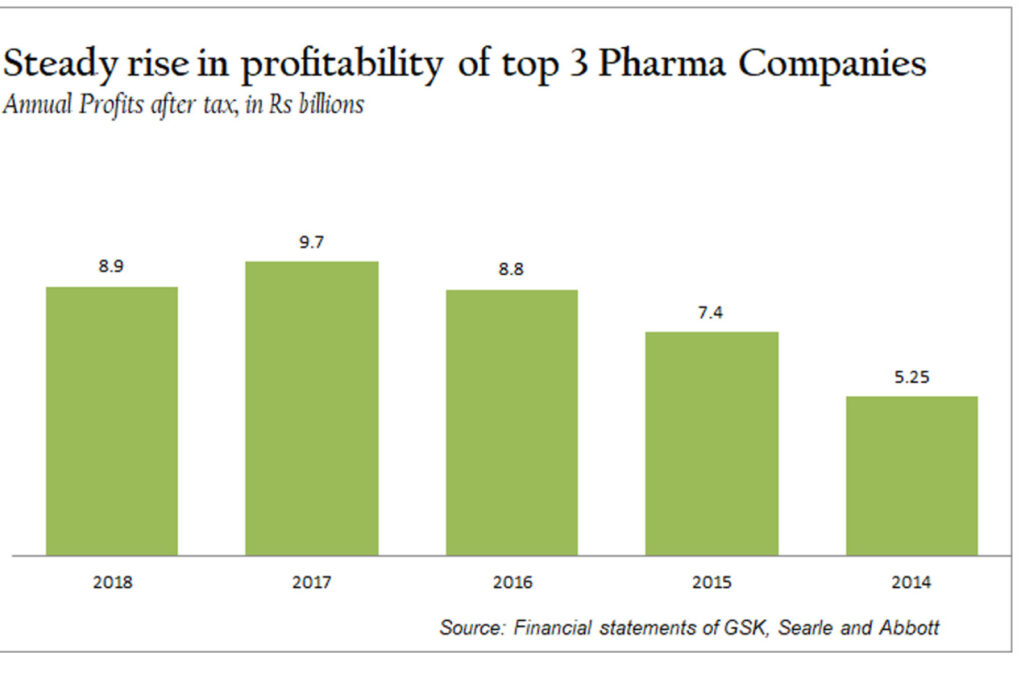 However, he mentioned some products of the top companies, which saw their price surge. For instance, Abbott's Duphaston tablets saw its price move up from Rs540 to Rs 840 and price of Urixin 400 moved up from Rs1010 to Rs1500 for 100 tablet box. GSK's Kenacomb cream price has been increased from Rs74 to Rs174 and Augmentin 625 price has been increased from Rs120 to Rs164. Searle's Nuberol tablets box price has moved up from Rs350 to Rs500. 
The Pharma Bureau's response has been that it is actually over regulation and unsustainable prices that result in medicines being driven out of the market, and that is why they then return at higher rates. This results not only in shortages of drugs, but creates room for smuggled and counterfeit drugs. 
"Often, patients end up buying drugs that come into the country through gray channels at way higher prices. This is exactly what is happening in Pakistan. Considering India and Bangladesh as examples, where 300 and 120 drugs are being regulated respectively and rest are deregulated, both countries are achieving exponential growth in local markets as well as exports."
However, the fact remains that the Pakistani market has been different from other free markets like those of Europe for example. They have industry code of ethics, something that seems to be completely missing in the operations of Pakistani companies. 
"Unless there is transparency and the free market is fully operative, price control regimes should be there to keep checks and balances,"  says our unnamed source.
"I remember the companies went to Sindh High Court to take stay order against Federal government's Drug Act and raised drugs price. The case then went here and there, bouncing around the courts while the prices kept going up."  
The state of the industry
But the Pharma Bureau continues to vehemently deny any such collusion. In fact, Ayesha claims that the pharma sector is already in the doldrums, and that such accusations and investigations only make matters worse. 
"That is absolutely incorrect. In an industry where the prices of every single drug, more than 70,000 of them, are controlled by DRAP (Drug Regulatory Authority of Pakistan), there can be no question of collusion. The CCP had conducted an inquiry and found that there was not only no sign of collusion, but that there had been absolutely no violations of the competition laws." 

"What is worse is that it is the pharma industry that has been struggling thanks to irrational policies and an over regulated industry. These are the actual biggest challenges for the pharma sector in Pakistan,"  she went on to say. 
"The industry right now has been hammered in terms of inflation, currency devaluation and fuel prices The costs have gone up exponentially, but the industry has only been allowed 7.3 percent in terms of CPI. More regulation is the last thing we need."
"Currency devaluation alone has been close to 40% in one year. The industry would prefer devaluation to be incorporated in price revisions, which is currently not the case," Ayesha said.
According to the former Special Advisor to the PM and the Minister of State for Health, Dr Zafar Mirza, there are 900 companies registered in Pakistan with a total market size of $3.3 billion. Abbott, Searle, GSK, GSKCH and AGP account for 85% of the total market capitalization of the listed pharmaceutical companies. Their combined market capitalization is Rs137 billion and the total by the listed pharma companies is Rs 162 billion. GSK and Abbott are the market leaders with annual revenues of Rs Rs 34 billion and Rs 29billion respectively. Infact an analysis of the last five year financials of the three largest pharma companies shows a steady 9% average growth in revenues and an even healthier 14% growth in the bottom line numbers.  Out of a total of twelve listed companies, only one, Wyeth Pakistan Limited did not turn a profit in 2018 with the rest operating at profit margins as high as 30%.
What now?
Despite the CCP's suspicions, the Pharma Bureau seems hopeful. Perhaps because despite everything, and all the suspicions and efforts of the CCP, they feel they will come out of this relatively unscathed. Whether this is because they are innocent or powerful, is to be seen. 
"It is not all bad. We finally have a drug pricing policy in place. This came out last year and was the result of months of consultative meetings between all the stakeholders. For a drug pricing policy to work it must ensure the availability of quality medicines at affordable prices" explains Ayesha. 
"There was also a realization that prices had been frozen since 2001. The cheapest drugs were the ones being most impacted and the ones disappearing from the market. The then health secretary got all the stakeholders to sit together and work out something whereby you would have a policy that could sustain not just the pharmaceutical industry but also patient interests."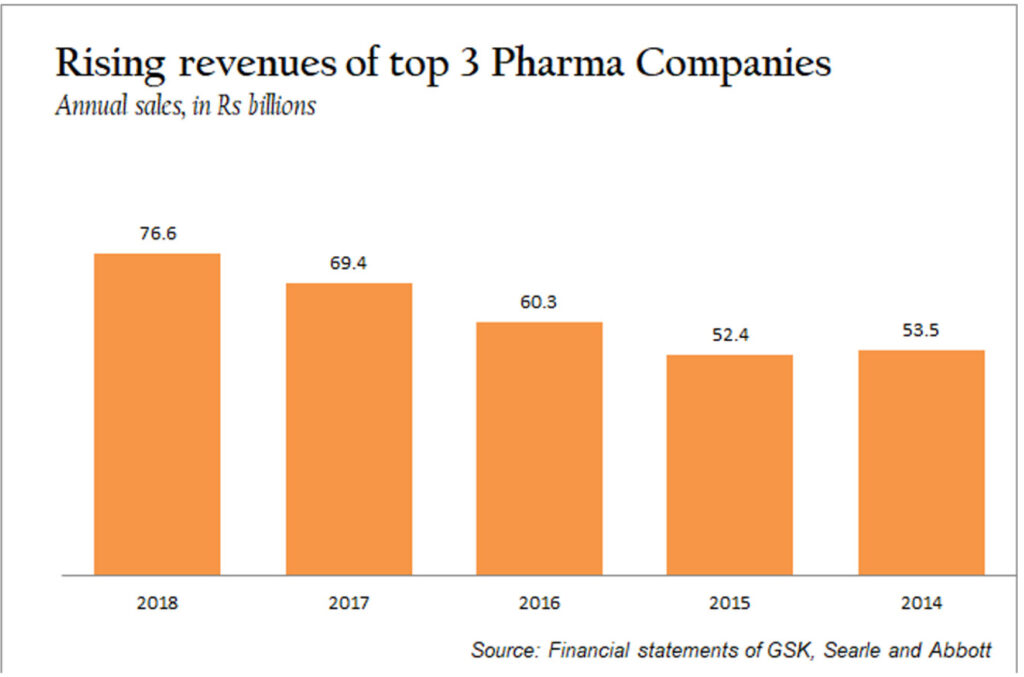 "One of the leading challenges is policies pertaining to Toll manufacturing in Pakistan. At present the tremendous potential of the Pharma industry to boost exports, create thousands of more jobs and earn much needed foreign exchange is being ignored. The current legal and regulatory framework doesn't facilitate this at all."
Toll manufacturing is an arrangement in which a company, which has a specialized equipment, processes raw materials or semi-finished goods for another company against a fee. 
Pakistan pharmaceutical exports stood at $197.62 million during 2018. It rose by 8% in 2018-19 to $211.674 million. Bangladesh recorded 27% export growth in the sector to reach exports of $130 million in 2018.  
"In every developed economy, including our region, favourable policies help support industry. We need to deregulate the industry in Pakistan and let the competition come into play. Toll manufacturing should be promoted and the only area where the government should be regulating is the quality aspect." Ayesha insists.