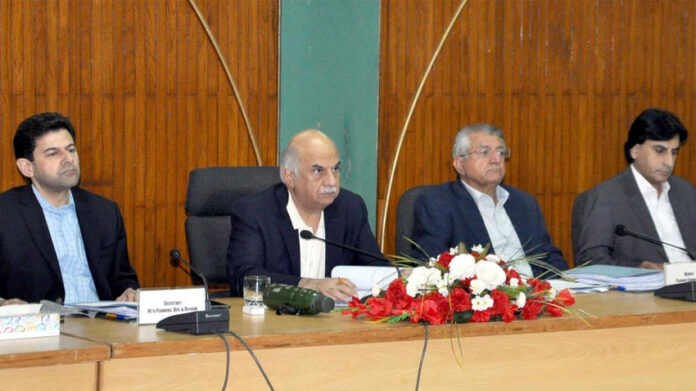 ISLAMABAD: The Central Development Working Party (CDWP) on Wednesday approved eight projects worth Rs13 billion and recommended five others worth Rs112.20 billion to the Executive Committee of the National Economic Council (ECNEC) for consideration.
The CDWP meeting was held on Wednesday under the chair of Planning Commission Deputy Chairman Mohammad Jehanzeb Khan. Planning Secretary Zafar Hasan, along with senior officials from the federal and provincial governments, was also present on the occasion.
Projects related to food & agriculture, health, mass media, manpower, industries & commerce, physical planning & housing, transport & communication and water resources were presented during the meeting.
The approved projects included 'Construction of Auditorium at Pakistan Academy of Letter' (Rs110.469 million), 'Improvement in Livelihood of female home-based workers (FHBWs) in Informal Economic Sector of Sindh' (Rs541.086 million) and 'Procurement of Latest Printing Machines for Modernisation of Survey of Pakistan' (Rs483.639 million).
Two projects related to the Interior Division, namely 'Construction of Admin Block Magazine Quarter Guard, Barracks, MT Shed, Horse Stable & Parade Ground in Diplomatic Enclave, Islamabad' (Rs280.848 million) and 'Construction of Police Barracks (100 men each) in sector F-7, F-8 and G-10, Islamabad' (Rs185.416  million), also received a nod by the CDWP.
Similarly, it approved two projects of the Transport & Communication Division, namely 'Construction of Bridge over River Ravi at Mal Fatyana District Toba Tek Singh' (Rs1,910.737 million) and 'Project Financing for Punjab Water Resources Management' (Rs1,276.324 million).
In addition, a project titled 'Promoting Sustainable Urban Development through Resilient Resources Management with a Participatory Approach in Mansehra' (Rs1,040.60 million) was also approved in the meeting.
Meanwhile, the projects referred to ECNEC for consideration included 'Construction of Eastern Wastewater Treatment Plant (44MGD) of Faisalabad City [Phase-1]' (Rs19,071 million), 'Naulong Dam Project' (Rs28,465 million), 'Diamer Basha Dam Project Acquisition of Land and Resettlement' (Rs20,337 million), 'Gwadar Lasbela Livelihoods Support Project-II' (Rs12,328 million) and 'Punjab Human Capital Investment Project' (Rs32 billion).