Back when she moved from Toronto to New York City to attend the prestigious Columbia Business School, Naveen Qureshi found herself stranded in the Big Apple. Despite having Canadian credit history, bank accounts and assets under her name, the American financial system was slated in a way that made all of this practically worthless.
With no credit history, Naveen found herself at square one. It was at Columbia that she also found Andrej Paule, a European student with his own horror story about American banks and trying to find a credit card. As both became friends, one of the things they realised was that they were still using their old credit cards, and it was virtually impossible to get a new one. 
That is where the seeds of Sable were first sown. Naveen and Andrej came to America for the best education in the world, dreaming of making their lives better. There is a lot happening when you first get to a new country. Settling in takes time, money, effort, confusion, and perhaps a few nights where one thinks if it was all really worth it. 
And then in the middle of all of that, you realise one hurdle after the other in US banking. Receiving a salary?  Good luck explaining your situation to accounts. Finally found a decent place to live in New York City? There was going to be a much higher security deposit since you had no credit history. No access to post-paid cell phone plans, you cannot even pay for Netflix when you first get to America. 
"As internationals, we had to walk to our local banks to get full service bank accounts. Then, show a million documents. Wait for our cards to get posted. Start our credit histories from scratch…this is not how it should be in the 21st century," reads Sable's About Us message on their website. 
And that is how they define themselves, as a company that offers free bank accounts and credit cards for internationals in the US. Banking is at the center of our everyday lives, and with so much else going on, Sable is striving to make banking part easier for their customers. 
Profit caught up with Naveen to get behind the story of Sable, where it has gotten, and what the future holds for this fascinating new startup.
Classroom beginnings 
Before coming to Columbia,  Naveen worked for banks in Canada where she pioneered the usage of public cloud in the financial industry. She worked at Capital One in Canada, in their online banking and credit card business, while Andrej had worked at McKinsey, launching Fintech products for banks across Europe. They also met their third partner at Columbia, Towers Willen, the only American on the team who spent a decade working for American Express in New York City. on the product and business development side on credit cards.
In fact, it was during a class that the idea to start a new card first emerged in their minds. Naveen and Andrej had taken a class titled 'Lean Launchpad' taught by Steven G Blank, a retired eight-time serial entrepreneur turned educator and author, who is credited with revolutionizing how startups are built and how entrepreneurship is taught around the globe. It was a rigorous course to say the least, and one that taught team Sable a lot. 
A course that involved coming up with an idea and actual field work that had them running around from airport to airport interviewing travellers, their discovery made them confident enough that something like Sable was a market requirement. 

"We had interviewed hundreds of people at JFK airport, at Laguardia, at New York Airport. And we were asking them about needs when travelling internationally. Like what kind of credit card did they want from a travel perspective," Naveeen explains, recalling the class she took with Andrej. "That was our initial idea, but very quickly we realised that the internationals that were travelling not only used their home country credit cards when they were travelling, but they were also using their home country credit cards when they were in the US." 
Collectively twice stung by American banking as internationals, with Naveen continuing to use her Canadian credit card a year into her life in America and Andrej only having a secured card on which he had put around $300, this was their eureka moment. 
"For all intents and purposes, we have these 300 in person interviews at airports to thank for our idea," Naveen said. "But after that, there was no looking back. We started diving into business schools, customer problems, the addressable market size, which for credit worthy internationals is 1.5 million new customers every year. And then, essentially, we started looking at revenue streams and regulations and started talking with banks and alternate data service providers to create underwriting orders."
From the classroom to the outside world 
Once they were sure they had a good idea on their hands, the still three pronged Sable team applied to Y Combinator, which has a 1.5% acceptance rate, and managed to make the cut and get in on the back of their innovative new idea. It was also here that Naveen, Andrej, and Towers were joined by Joseph Finlayson, a friend of Andrej's whose portfolio ranges from building digital teams for some of the worlds largest banks, and creating a fitbit for dogs.
Now a four person team, Sable went through Y Combinator in the summer and launched Sable in August 2019 when they did their pilot. This was followed by raising their seed round in October 2019, after which they moved back from California to New York City, where they are currently based out of.
How does it work? 
The hook that Sable uses is that if you are an international just arriving in the United States of America, you do not need to have a social security number (SSN) or credit history to get a credit card that will work not just all over America, but all over the world. All you need is a passport, and if you have just arrived in the US or are travelling there, you definitely have one of those. 
"There is no requirement to ask for a social security number," Naveen explains. "What the regulation essentially says is that you should be able to identify a customer. It's called KYC (know your customer). And when you read into the regulation, it essentially says that you need a government issued ID. It doesn't say it has to be a social security number."
Traditional banks and Fintechs read this as being a requirement to have a social security number. The SSN is a unique number that every United States citizen gets at birth, which makes it much easier for the banks to just use that. However, it is by no means a banking law to need to have one for a credit card. But when internationals come in, they obviously do not have any such number, and need to make countless visits to their banks with endless documents to finally get a credit card up and running. The way Sable is getting around this is that they have gotten confirmation to use passports for those that do not have a SSN. 
"It is the same with credit history, it is not a requirement. What credit card companies and banks in terms of credit cards tend to do is that they try to mitigate the risk of their customers defaulting on their credit cards. So the way they do that is that they look at their prior FICO score and their credit history to determine where at the risk spectrum they lie and what type of credit lines should they extend" she says. 
"As an international, I don't have a credit history, but I have years and years worth of credit history in my home country. Or I may have bank accounts, assets, retirement savings, you know, TELCO bills and utility bills that can help someone assess my risk differently." 
"So that is kind of what traditional banks do is look at the credit history of someone who doesn't have any. What Sable does is that we look at hundreds of different variables like your profession, your education, your role in a company, what you're studying, in addition to other alternate data."
Against the grain much? 
The fact that they are shrugging off long held banking practices does not bother Naveen or Sable. In fact, they feel that their freer outlook actually gives them more freedom since they are not bogged down with long histories and traditions that promote caution. Team Sable wants to define their own banking experience, and Naveen says it has actually helped rather than hindered them. 
"We have actually been able to keep our risk below industry standards. Our model takes into account hundreds of variables. We actually built that with a veteran at Capital One who has 16 years of experience in the subprime market," she tells Profit.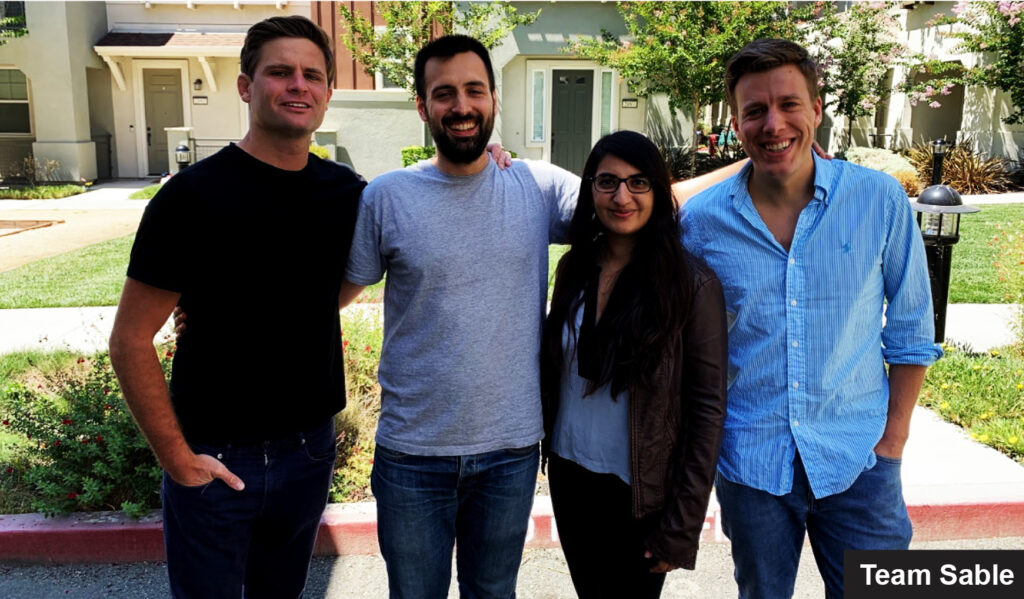 "We are basically continuing to monitor the model, improve it, monitor how our customers are behaving and just improve our underwriting models and also the type of credit line we are extending based on the feedback we are getting."
Setting up
If Naveen is to be believed, you can set up Sable within 5 minutes, including all verifications. There are, of course, moments when documentation and cases have to be looked at more closely and need a human eye. In situations like this, it may take up to 24 hours, but most of that is just waiting around at home. But as things stand currently, around 85% of the accounts go through with the simple online verification in under 5 minutes. 
So, for example, if you are a Pakistani that has recently moved to the United States or is about to move there, then the verification that Sable will ask you for is your passport and your Visa, and then you would have to have an address in America. 
"Everything is on the mobile app. You also have your virtual card on the mobile app. And you also have a physical that gets mailed to you on the physical address," Naveen says quite proudly. 
"In the onboarding process in the mobile app you go in and put in your personal information, you put in your email, create a password and create an account and provide your address. Then you go into verification. We use third-party services, a few top ones that  fintechs use like Jumio." These services look at passports and ensure they are not fraudulent, not photocopies, and are not tempered with. The technology has basically run machine learning on millions and millions of passports and that is how it determines the data. The same technology is used for US visas. "So we have basically chosen the best in-class KYC providers and obviously the cost for that is high but being a mobile bank we have to ensure that we know our customers and fulfill the internal and external requirements we have for KYC."
As soon as you sign up, you get a checking account. This way, the ones wanting to send money could use your account and routing number to wire money out from Pakistani. In the coming weeks, they are also planning on providing additional ways to transfer money, because wiring money into the US can be expensive. 
"We are starting to use a service called TransferWise, which you can actually today do on your own as well on their website. But we are starting to integrate that into our app so that the customer does not have to leave the app in order to do it. And in the coming weeks you can also use your credit and debit card to top-up your account." 
Business model 
Despite there being so much that sets Sable apart from traditional methods and modes of banking, their business model is still quite traditional in many senses. 
It is the traditional revenue streams that you would expect, the first one being interchange. So every time a customer makes a transaction on the card, physical or virtual, online or offline, Sable makes an interchange on that, and that becomes one of the leading streams of revenue for them. That is both for debit and credit cards. 
"The second piece is the interest that you accumulate to revolve your balance on your credit card. So, for example, if you spend $500 and pay off $400 dollars, you would accrue interest on the outstanding 100 dollars. That is the second revenue stream and that is for credit only. And then the third is monthly fees on your bank account and your credit card," Naveen explains. 
While Sable has not started monthly fees on credit as yet, they are going to offer an unsecured reward card in the coming months. This would mean charging the customer a monthly fee to use their credit card on that. But for now, bank accounts are free and Naveen says they do not intend on changing anything on that front. 
One significant way that it is different, however, is that it is cheaper. "We do not charge any fee on ATM withdrawals. Our APR is lower than conventional banks and we don't charge anything for incoming wires, whereas banks on average can charge upto $35 upon receiving a wire. That's crazy. And the banks on average can charge 10-15 dollars for sending a wire. We also don't charge anything on sending wires." 
The future 
Sable is not profitable yet, for the obvious reason that they are still very, very new. But already they are looking towards the future, because they feel this is an idea that traditional banks in America and other possible competitors are going to catch up to very soon. 
"I think banking is the most profitable industry still and there is a huge addressable market in the US for the need of the products that we are offering. In addition to this, the competition is like slim to none," says Naveen.
"Our vision really is to become a global bank that helps any international that moves from any one country to another. We are launching from the US because that is where we are based and what we know best. But essentially, my CTO is from Europe, he is from the UK, lives in Germany, went through the same thing in Germany. So the need for these products exists in every country in the world. And we really look forward to becoming a global bank for internationals."
"As far as big banks catching up is concerned, it all depends on customer acquisition and customer retention obviously. Since we are a team made up of internationals and we are a bank specifically focused on internationals, we would be laser focused on the needs of the internationals and work backwards from there. Whereas the traditional banks and fintechs in the US are looking at US citizen needs."