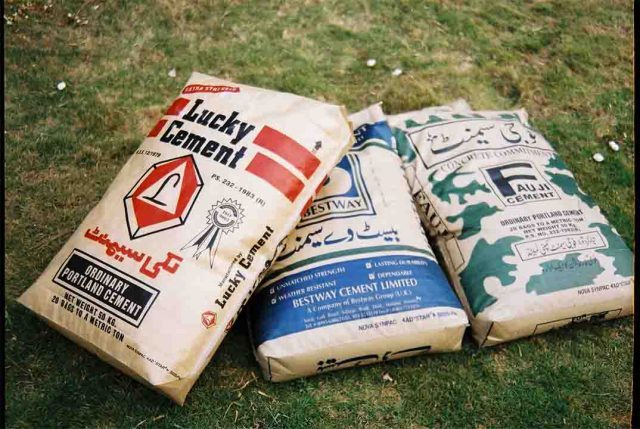 LAHORE: The country's cement sector highlighted numerous factors which are causing heavy losses to the industry.
One of the leading cement players who did not wish to be named said that cement bag price was Rs535 in North region in 2014 and today after six years, the price is Rs510 to Rs525 in the North region. The industry insider added that discounting the effects of higher inflation, 65pc Pak rupee devaluation, expensive transportation cost, packaging cost is also up by 45pc, hike in markup rates and 25pc increase in federal excise duty (FED) in FY 2018 budget (Rs18 per bag effect approximately). He added that on top of that, the admin cost has also increased last year. The cement sector is reporting heavy losses due to these factors.
The cement manufacturer added that approximately Rs1-1.5 billion loss per quarter is reported by all major players in the market. "Cement is the only commodity in Pakistan whose prices showed negative movement after the gap of six years and it is selling at lower prices now," he claimed. He maintained that FED stands at Rs100 per bag today while sales tax is applicable at 17pc on market retail price (MRP) which is Rs80 to Rs85 per bag.
The industry insider claimed that the transportation cost is applicable on coal imports and delivery of cement. He added that coal handling of all businesses is shifted to Pakistan International Bulk Terminal  (PIBTL) which is charging $6.5 to $7.50 per tonne (Rs1,000) against the Karachi Port Trust (KPT) charges of Rs 375 per tonne.
"PIBTL is enjoying perfect monopoly," he alleged.  He shared that cement bag handling consists of loading and unloading and truck fare, road taxes and other local government charges. This cost has also jacked up by 40pc in the last few years.
He added that it now ranges between Rs50 to Rs60 per bag to different companies.
The insider said that coal is a major cost for the cement sector which is imported material priced in US dollars. Value of the US dollar had appreciated by more than 65pc against Pak rupee as compared to 2014. He added that the industry is maintaining two months in advance orders currently using $74 per tonne coal inventory. Current low prices will be effective from June onwards.
He pointed that approximately Rs110 to Rs130 coal is consumed for producing a bag of cement. The industry insider further added that currently D-3 electricity tariff is Rs21 per unit. Its prices have also gone up significantly in the past few years. It is also a major part of cost. He shared that the price of empty cement bags has also increased due to imported materials. "Now a bag costs us around Rs35 to Rs 45 per bag," he said.
The cement manufacturer maintained that lending rates have gone up and heavy financial charges are killing for industry and a major cause of bottom line losses. 
Besides this, repair, maintenance, administrative and operating costs have increased in line with inflation. He added that the government has also withdrawn tax benefits of expansion of new plants in last year's budget.