ISLAMABAD: Tax payments and fees on mobile consumers and operators in Pakistan are among the highest in developing Asia, said a report issued by the international GSM Association (GSMA).
The report titled 'Pakistan: progressing towards a fully-fledged digital economy', outlined that with a growing population, and mobile phones being at the center of the public and private sectors' efforts of gearing the economy towards its economic potential, Pakistan needs to "simplify access and digital connectivity, and reduce the coverage gap".
The importance of the mobile sector to Pakistan is significant and growing. It is a vital contributor to the economy and is redefining the way individuals, businesses and state bodies function and interact.
With decelerating Gross Domestic Product (GDP) growth compounded by a rising population, the jobs, taxes and productivity gains generated by the digital ecosystem will be pivotal to supporting the health of Pakistan's economy and society moving forward, the report said.
Article continues after this advertisement
Pakistan's mobile market has experienced rapid development since the turn of the century; however, the pervasion and widespread consumption of advanced technology and resulting digital services have yet to fully materialize.
On certain telecoms metrics Pakistan lags behind its regional peers, some of which are similarly striving to overcome poverty, political crises and conflict. As neighboring markets accelerate digitization programs, keeping pace requires that Pakistan does more to successfully exploit its demographic advantages, including mobilizing its vast – and increasingly tech-savvy – youth population.
The report also said that for the country's bottom 20 percent and 40 percent income groups, the total cost of mobile ownership (TCMO) for both low and medium consumption baskets is above the UN's "1 for 2" target (i.e. 1 GB of data costing less than 2 percent of monthly income).
Moreover, the upfront cost of a handset represents an affordability challenge for those lower-income Pakistanis who do not have access to finance, which otherwise will enable them to pay by installment.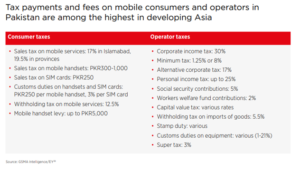 The government has acted to alleviate some of the tax pressure on mobile consumers, including cutting SIM card taxes by 75 percent in 2004/2005. It removed the 16 percent Value Added Tax (VAT) rate on mobile handsets in 2016 – a move that resulted in year-on-year handset sales growth of 25 percent; however, this has since been reinstated.
Further, at 31 percent, tax as a percentage of TCMO is significantly above the global average of 19 percent, while the mobile sector makes a disproportionately large tax contribution relevant to its own economic footprint.
The report added that strict tax regimes that divert large proportions of revenue from operators to governments can negatively impact connectivity, distort the industry's development, and harm end-users.
In Pakistan, consumers face sector-specific taxes that apply to devices, SIM cards, and usage charges, which limit investment, affordability, and overall mobile internet usage.
These taxes are particularly likely to affect poorer consumers as mobile broadband services become too expensive, which in turn can widen the digital divide and cause exclusion.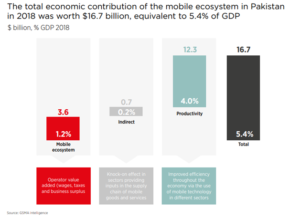 Chief Digital Officer for Pakistan Tania Aidrus said in the report that it is clear that Pakistan has to simplify access and digital connectivity, and reduce the coverage gap.
"More than half of mobile connections do not have active mobile broadband connections; we need to understand why. The reasons likely range from cost to socio-economic factors; we need to tackle those systematically. Additionally, while we are approaching 90 million unique subscribers, some basic hurdles need to be removed for the remaining Pakistanis. Handset prices need to be curtailed, while the government continues to explore ways to both reduce the tax burden on imports and drive local production. The right incentives across the board will be required to achieve this. The private sector also has a role to play, with some operators already offering installment plans on low-cost handsets. If we are to truly start thinking of the internet as a fundamental right for all, the ecosystem needs to work together to make solving these issues a priority," the Chief Digital Officer for Pakistan said in the report.
The report also outlined that imports dominate device sales, leaving domestic manufacturers playing catch-up. Basic feature phones remain pervasive in Pakistan; at the end of 2019, they represented 44 percent of total connections in the country.
Due to historically lower wages in other countries, duties on parts and the lack of a framework for the approval of domestic manufacturing, most devices are produced abroad and imported.
QMobile is the only Pakistani company in the top 10 largest mobile handset vendors in the country; however, its phones are Chinese made and then sold under the QMobile brand.
In contrast, India is home to a burgeoning mobile phone industry, with factories run by foreign companies (e.g. Samsung) and domestic manufacturers, including HCL, Karbonn, Lava and Micromax.