The Pakistan Telecommunication Authority (PTA) clarified on Friday that it has not yet issued any commencement certificate to VRG Remittance Gateway Pvt Ltd (VRG) for commercial operations of Asaan Mobile Account (AMA) scheme in Pakistan.
Earlier, Virtual Remittance Gateway Pvt Ltd (VRG), through advertisements in the press, had claimed that it is "commercially operational for AMA scheme with Jazz and SCO", a statement issued by the PTA noted.
Press Release: On 14th August 2020, Virtual Remittance Gateway Pvt Ltd (VRG) through advertisements in the press claimed that it is "Commercially operational for Asaan Mobile Account (AMA) scheme with Jazz and SCO". pic.twitter.com/qenGqaNgTr

— PTA (@PTAofficialpk) August 14, 2020
"For AJK & GB, VRG has even not been awarded any Third Party Service Provider (TPSP) licence," PTA stated. "Hence, the general public is advised not to undertake any commercial activity till all the licence conditions for the commercial launch of AMA scheme have been met by VRG as per TPSP licence."
Article continues after this advertisement
VRG RESPONDS TO PTA's CLARIFICATION
Meanwhile, in response to PTA's clarification, VRG maintained that it had received TPSP licence from PTA on 16th January 2018 and the same from SBP on 17th April 2017. "We applied for SBP commencement certificate on 3rd March 2020, and received SBP Final Authorization/Commencement Certificate on 9th April 2020 after SBP's stress testing # 1: 19th December 2019, Stress Testing # 2: 26th December 2019, Stress Testing # 3: 3rd March 2020 and Stress Testing # 4: 10th March 2020." 
The company claimed that PTA had conducted its inspection for commencement certificate from 1st January 2020 till 8th January 2020, and compiled its report on 10th January 2020. 
On this basis, VRG was expecting PTA to either issue a commencement certificate or ask for yet another inspection (s) if there was any requirement for additional inspection. "Since then, we have been repeatedly requesting PTA for issuance of the commencement certificate, requesting the authority for a meeting and the latest formal communication in this regard was sent to PTA on 4th Aug 2020, and the last request for meeting with DG licencing was made on 10th Aug 2020." 
According to VRG, PTA did not give any formal reply for any additional requirements till date.
"We appreciate PTA's support and its patronization in helping us launch AMA scheme and we understand the fact that PTA is yet to issue us the final commencement certificate. We are helping the poor and unbanked masses in Pakistan and supporting the government and the PM's mission of financial inclusion of the poor people of Pakistan," the VRG statement read. 
VRG said it has signed commercial agreements with SCO and JAZZ and are close to signing similar agreements with ZONG, Telenor and Ufone. These commercial agreements are in addition to the company's agreements with the commercial banks.
"We are ready and prepared to launch commercial services in Pakistan as soon as the PTA issues us the commencement certificate in Pakistan. As PTA has not yet issued us the commencement certificate, we have neither launched commercial services nor have charged the business partners (CMOs and the banks) or customers for AMA Scheme."
'IN GOOD FAITH'
As far as the advertisement is concerned, VRG stated, it was issued only to create awareness among the masses on the occasion of 'Independence Day'. "As this day will not come until the next year, we thought, in all good faith, that it is appropriate to take people of Pakistan on board on our preparedness and 'readiness to launch' the commercial services soon and to give them the gift of AMA scheme, but this gift will not be given until PTA allows us to give them, for which they have been waiting for since many years.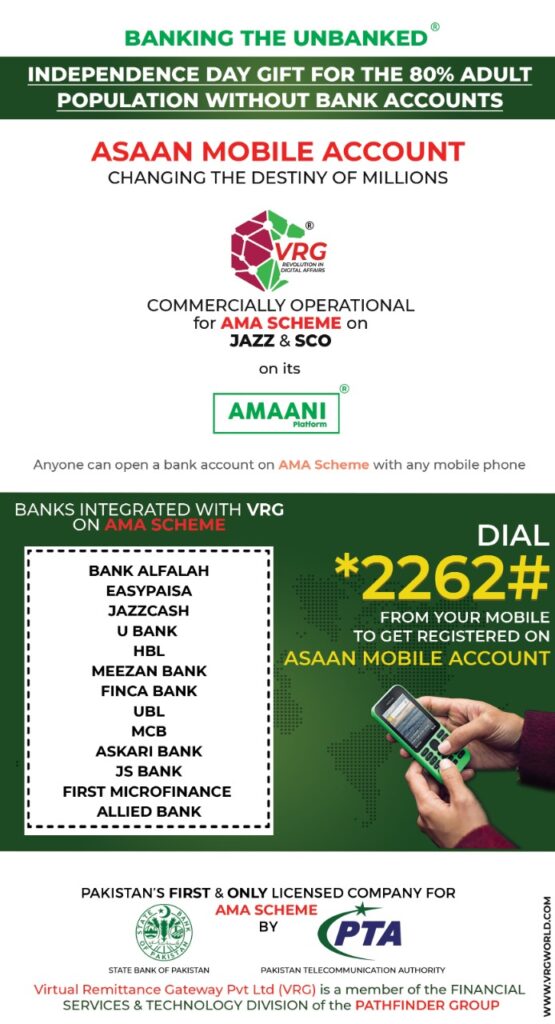 "As PTA's press release mentions AJK & GB, we haven't mentioned AJK &GB in our advertisement; we just highlighted our status of integration with SCO, which is a fact and does not amount to any violation as we are not launching any AMA scheme in AJK & GB without PTA's express permission/licence," VRG clarified. "In the advertisement, we have not in any manner mentioned that we have launched commercial services (in Pakistan or in AJK & GB or Pakistan) without PTA's commencement certificate.  We have intentionally avoided the words 'launch' and 'commencement of operations' and only talked about readiness and being commercially operational."
VRG noted that since the company started the pilot phase on PTA's direction, the people of Pakistan have opened 108,280 AMA accounts and completed much more than 3.2 million transactions, all free of cost. "VRG is bearing all these costs for all these activities to help poor people and satisfy PTA's requirements under the law and the license conditions. VRG has not charged any of its business partners for these transactions."
The company, however, assured that it would not launch the commercial operations till the time PTA formally issues the commencement certificate.
 A 'RUDE' REMINDER?
According to people familiar with the matter, although the PTA is right in its claim that it had not issued any commencement certificate for commercial operations of AMA scheme in Pakistan, the advertisement by VRG could be a "rude reminder" to the authority to expedite the issuance of these certificates. 
As per sources, the PTA has been delaying the issuance of certificates allegedly to facilitate a telcos-backed company (DBL), which at the moment is far behind VRG in terms of operational readiness.
The PTA has been sitting on the issue for too long now, and the more they delay the issuance of certificates, the more people are going to doubt their intentions, they added.
It may be noted that DBL, after receiving a TPSP licence from the SBP, would also be launching a VRG-like pilot programme at some point, which, if successful, will lead to its commercial launch.