ISLAMABAD: ICI Pakistan Limited (ICI) announced its 4QFY20 financial result today where the company posted a profit after tax (PAT) of Rs144 million (EPS: Rs1.56), down by 81 percent year over year (YoY) compared to Rs761 million (EPS: Rs8.24) during the same period last year. On a quarter over quarter (QoQ) basis, earnings decreased by 73 percent.
This took the annual profit after tax (PAT) in FY20 to Rs2,528 million (EPS: Rs27.37) compared to Rs2,525 million (EPS: Rs27.34) during same period last year. Along with the result, the company announced a final cash dividend of Rs5.00/share (Total: Rs16.00/share), Arif Habib Limited report explained.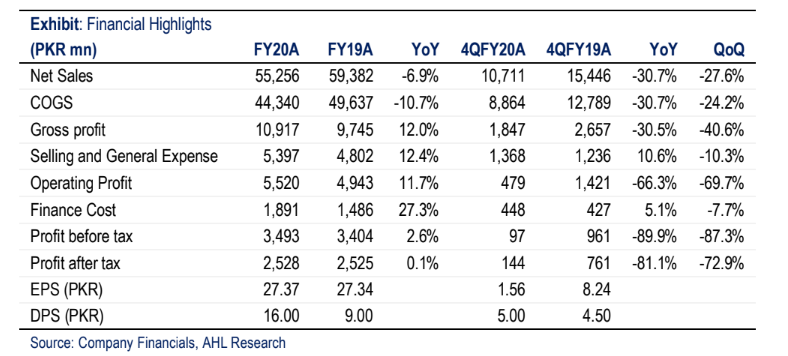 During 4QFY20, net sales went down by 31 percent YoY to Rs10,711 million. The decline in sales was due to lower volumetric sales of all segments amid lock down in the country.
Article continues after this advertisement
Gross margins of the company remained stable on a YoY basis, witnessed at 17 percent during 4QFY20. However, they went down by 376bps on a QoQ basis, mainly led by volumetric decline. Finance cost of the company increased by 5 percent YoY to PKR 448mn due to higher interest rates.
Along with the result, the company also announced the capacity expansion of Light Soda Ash by 125K tons per annum compared to 75K tons per annum announced earlier. With this, total capacity will increase to 550K tons per annum from current level of 425K tons per annum.