ISLAMABAD: Mari Petroleum (MARI) announced its financial results today (Thursday) and reported earnings of Rs53.1/share for 4QFY20, a decline of 6 percent year over year (YoY). The company also declared a final cash dividend of Rs2.0/share, taking full year dividend to Rs6.1/share.
The net sales posted by the company value at Rs18,486 million with a profit after tax of Rs7,088 million, as compared to lower net sales for 4Q2019 of Rs15,941 million but higher profit after tax of Rs7,518 million.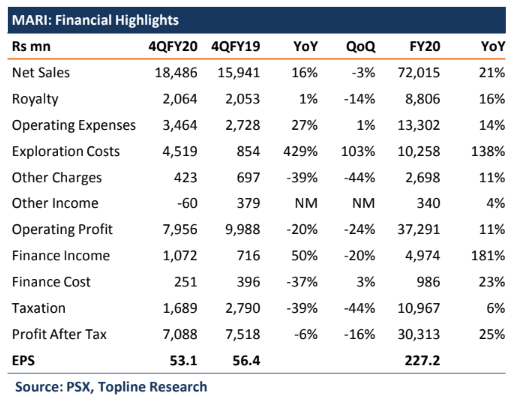 This decline in earnings is attributable to decline in oil and gas flows by 10 percent YoY and 1 percent YoY respectively, along with four-fold increase in exploration costs, by 429 percent YoY. "Exploration costs came in higher-than-our expectations as we believe, the company has recorded a dry well Zarbab (from Hala Block), where company has a 35 percent stake," said Topline analyst report. Last quarter, PPL recorded this as a dry well under its exploration cost.
Article continues after this advertisement
Operating expenses clocked in at Rs3.5 billion ($1.8/bbl), which is broadly same as last quarter's $1.84/ bbl. Finance income increased by 50 percent YoY due to increase in overall cash position of the company.
During FY20, earnings of the company increased by 25 percent YoY due to rupee depreciation of 17 percent which resulted in higher wellhead prices. Overall, the financial income increased by 72 percent YoY, mainly due to higher interest rates for the period, Insight Research report showed.
During 4Q, despite 50 percent QoQ fall in oil prices and meager decline in gas production from MARI field, revenues witnessed 16 percent increase thanks to 11 percent average currency devaluation. Overall oil and gas production of the company declined by 8 percent YoY and 2 percent YoY respectively during the year.