KARACHI: Agha Steel is in the process of getting listed on the Pakistan Stock Exchange (PSX) and is currently undergoing the book-building process, scheduled to end on Wednesday.
For the book-building process, institutional investors and high net worth individuals are currently bidding for 90 million shares of Agha Steel.
The floor price is Rs30 and the book-building process will determine the strike price at which Agha Steel will go public on October 14 and 15 with 30 million shares.
Considering the book-building process, brokerage firms across the country have given their financial advice regarding investing in the Initial Public Offer (IPO). Profit has surveyed 10 brokerage firms to gauge the market sentiment regarding the Agha Steels IPO.
Out of the ten surveyed brokerage firms, seven brokerage firms issued a subscribe option. These include Abbasi and Company, Al Habib Capital Markets, Darson Securities, Foundation Securities, KASB Securities, Pearl Securities, and Rafi Securities. AKD securities, however, remains skeptical of Agha Steels and suggested investors to subscribe but with caution. JS Research does not recommend subscription, whereas, Taurus has not given an opinion regarding the IPO.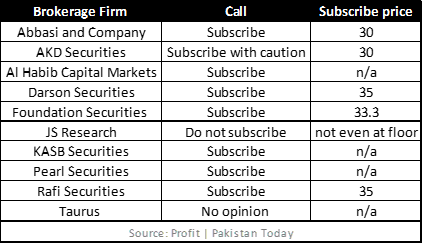 As per analysts, the general consensus remains that the steel industry has strong potential keeping in mind the stimulus provided to the construction industry.
Usman Arif from Foundation Securities, in a report titled 'Agha Steel Industries Ltd – At the cusp of a new phase! Subscribe' writes, "Resumption of construction activities given government incentive package amid fiscal and monetary stimulus would help the company sales to grow by 43pc/11pc/10pc YoY in FY21/22/23, in our view. The same has been reflected in highest ever monthly sales of cement during the month of Sep' 20, as per APCMA."
Moreover, Arif commented on Agha Steel's strong "financial muscles" that enable it to offer products on credit which helps the company charge a premium in comparison to its competitors.
Umer Farooq from AKD research in a report titled 'AGHA steel IPO – All that glitters is not gold' stated, "The key competitive advantage of the company is its ability to generate superior margins against its peers (last 3yr average GM: ~23pc vs. ~10-12pc for its peers)."
However, while the margins being higher may be taken as a strong case for investing in Agha Steels, Farooq further explained why this may not be taken at face value.
"While a company with the ability to generate superior margins generally commands premium valuations, we remain skeptical in AGHA's case both in terms of sustainability (higher fix cost due to low utilization would hurt margins going forward) and the means to achieve it (i.e. use of low grade scrap)."
Despite that, Abbasi Securities feel that the usage of an electric arc furnace will be a basis of saving. The report reads, "… savings of 20pc-25pc of the total electricity cost, less labor-intensive, and higher efficiency in terms of yield recovery are some of the competitive advantages the company has by having an electric arc furnace instead of an induction furnace."
While it cannot be said with certainty that Agha Steels will be the right bet, what can be said with certainty is that brokerage firms are usually excited when it comes to IPO considering how they are rare.