KARACHI: The total non-performing loans in Pakistan stood at Rs91 billion during the first nine months of 2020, as compared to Rs78 billion during the same period of last year. 
However, the total NPLs fell to Rs6 billion in the third quarter (July-Sept) of 2020, compared with Rs44 billion in the second quarter.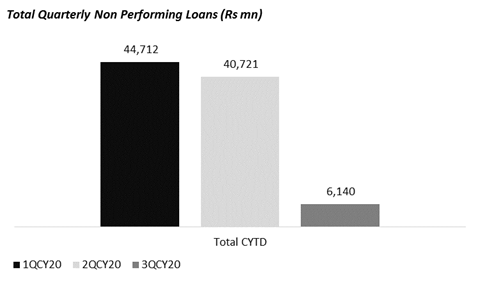 Fahad Rauf, Deputy Head Research at Ismail Iqbal Securities, noted that banks have underperformed at the KSE100 this year. He cited "uncertainty around asset quality" as a key reason behind this. 
Article continues after this advertisement
Why have NPLs decreased? 
"SBP through loan deferral facility has delayed NPL recognition, where 11pc and 3pc of the private sector loans have been approved for loan deferral and restructuring respectively," Rauf stated. 
Speaking to banks, it was learned that in the previous quarter, loan takers thought they wouldn't have to apply for the deferral facility and that it would be given to them. This was primarily due to a lack of awareness among customers about the procedure. 
As a result, rather than customers applying for the facility, banks were seen chasing customers. 
Now that more individuals have applied for the facility in comparison to the previous quarter, the number has shrunk considerably. 
However, the NPLs mentioned are largely subjective provisioning which means these numbers can go either way for banks. 
Rauf said that it is interesting to note that the pace at which NPLs are emerging has slowed down. According to him, this shows banks are assuming that NPLs will not be as big a problem in the future as they did a few months back. This could be due to an earlier recovery than what was expected in the economy and a greater capacity utilization being witnessed across the board. 
Rauf, however, commented, "The actual intensity of bad loans would be determined by June 2021."
Sectorial analysis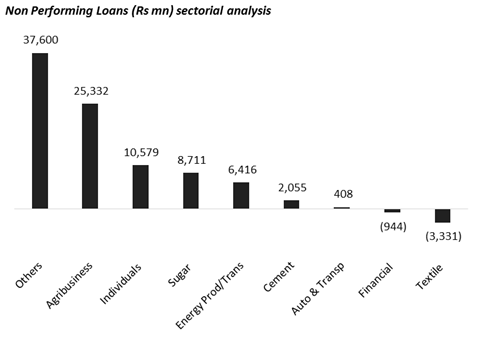 Agribusinesses remain the largest sector in regards to NPL provisions cumulatively for the three quarters, however, in the third quarter of the CY2020, NPLs have not only shrunk but have been realized. 
While one cannot say with certainty, the consensus around this is that a bumper crop is expected for wheat and sugarcane with the sugar crushing season already beginning. Moreover, this improvement in agribusiness performance has a spillover to the automobile sector with a rebound in sales. 
Moreover, the textile sector with a surge in capacity utilization has resulted in NPLs being realized in this quarter. This is a positive sign as the textile sector has often been seen to be a concern with regards to NPLs. Analysts are often skeptical about banks that have a greater exposure towards textile such as HBL and Habib Metropolitan bank, however, the sector now rebounding proves to be a positive sign for the banking sector. 
SMEs
Specialized banks primarily deal with lower income segments which are often seen as a risk. The NPLs experienced by this sector in the third quarter have turned into net realizations. This means that the SME sector is seen as less of a risk when considering subjective provisioning.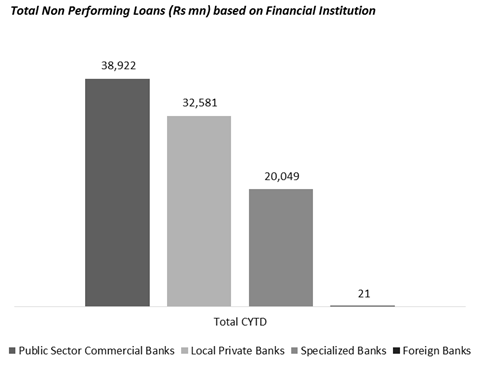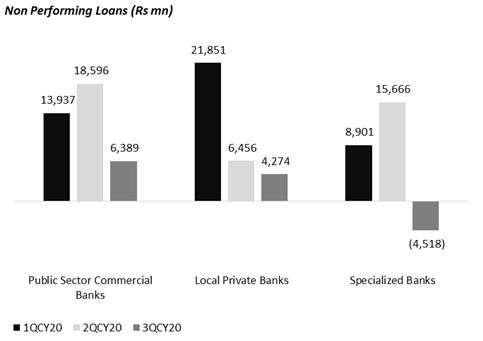 While speaking at 'Fast Forward 2030: Will Pakistan's financial sector deliver?' panel discussion at the Future Summit organized by the Nutshell Conferences in Karachi on 18 November 2020, Mohin Nathani, President & Chief Executive at HabibMetro Bank, said, "SMEs have to be nurtured to grow and they are the most challenging. Through SBP subsidized financing and partial guaranteeing, the sector has been supported. Had there been no support, the output would be different."