At least 97% of the people who visit your business' website leave without taking any conversion action. They don't buy anything. Don't add anything to their carts. Don't even subscribe to your newsletter. And 70% of them will never come back. 
In short: Converting customers is a massive challenge. Retaining those new customers can be tricky, too. However, there are proven strategies you can apply to increase your conversion and retention rates. Fundamentally, these tactics rely on data, customer communication, and social proof. 
Below, I'll walk you through the process in detail. To illustrate all that, I'll use data and case studies from OptinMonster, PushEngage, and MonsterInsights, three popular conversion, and analytics tools.

Gather Data As Indirect Feedback
When it comes to customer conversion, data is the rock you should build your decisions on. With the right data, you can pinpoint your business' weak spots. Then, you can make targeted improvements. 
First, though, you'll need to gather that crucial data. There are two basic ways to go about that. The more direct one is to collect actual feedback from customers – sending out surveys, going through forums, reading comments, and checking out reviews on- and off-site. However, if you're new and your conversion rates are low, it'll be hard to gain a lot of actionable insights this way. 
That's where the second data source comes in: analytics. 
With the help of analytics tools such as MonsterInsights, you can keep an eye on important metrics, like bounce rates, visitor statistics, session duration, and – of course – conversion rates. For communications like push notifications and emails, you can further analyze deliverability, open rates, and click-through rates.  Together, these numbers form a clear picture of where your site and marketing strategy succeed – and where you can apply improvements.
Bounce Rate Pinpoints Abandonment Hotspots
To start with, bounce rates tell you how many visitors visit your page and then immediately leave again. On average, 47% of all visitors will simply bounce. However, this number varies between industries and devices. For example, average bounce rates are much higher in the B2B sector than in food-related businesses. That's because B2B website visitors are looking for much more specific products. 

High bounce rates result from content that simply didn't match visitor's needs – but can also indicate poor user experience. So, before you deep-dive into content issues, give your site a thorough technical once-over. For example, consider mobile-friendliness. As the graph shows, mobile visitors bounce more than others – often because your site loads too slowly. Since mobile accounts for 68% of global traffic, this is a huge problem. 
You'll find similar patterns when it comes to cart abandonment. Partially, that happens when your customers-in-the-making simply have second thoughts about quality, price, or shipping. In fact, about 70% of all carts never make it to purchase. However, in some industries, as many as 40% are abandoned because of website functionality issues. Once you've eliminated any technical issues, it's time to hash out a strategy to increase conversions. 
Add Conversion Boosters Like Pop-Ups and Push Notifications
Someone is looking at your site. They're not quite sure the content is right for them. Their mouse cursor flicks up to close the tab. Before it gets there, however, your website sends up a flare.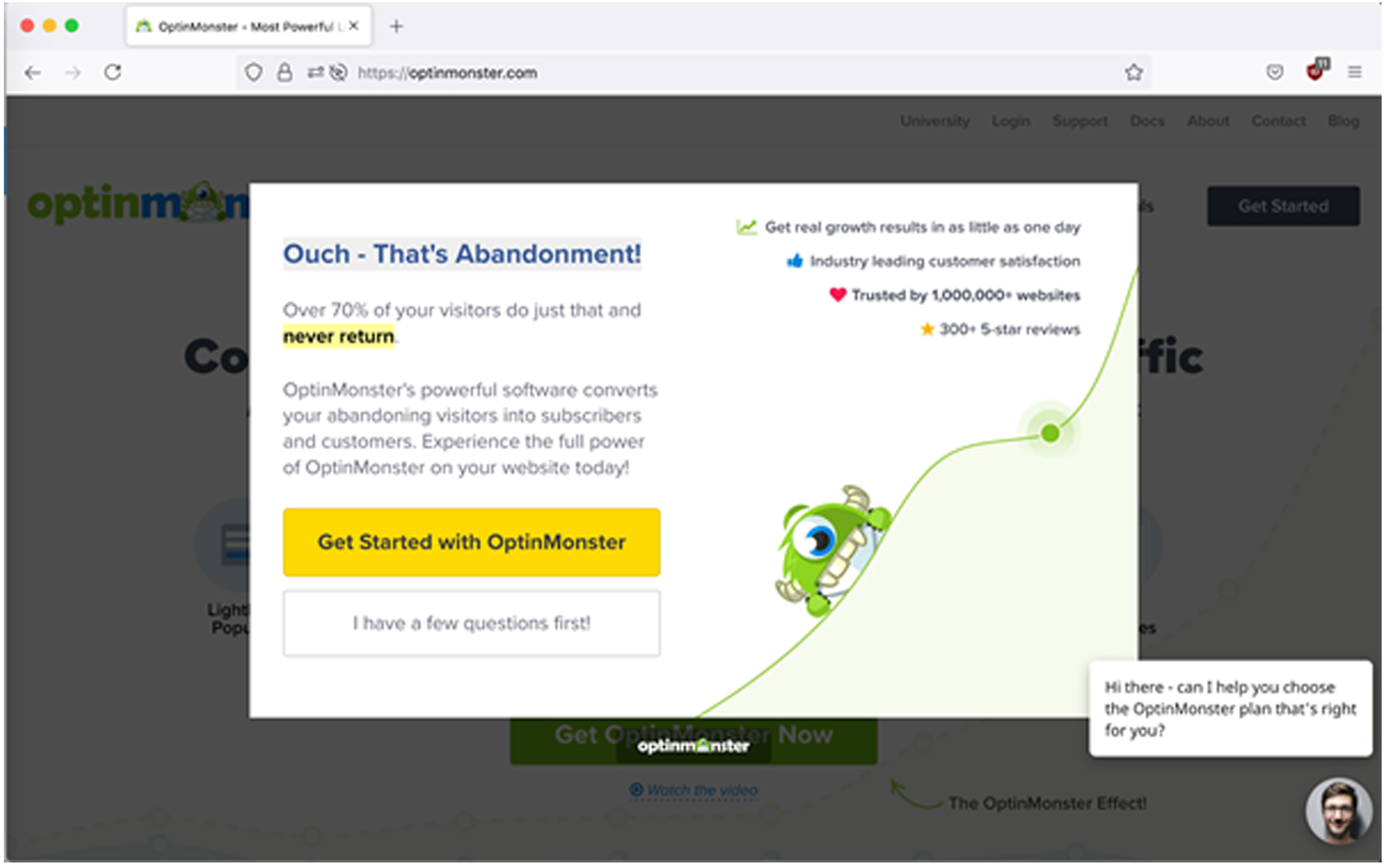 What happened here is that a tool automatically detected that a website visitor was about to leave and responded with a last-ditch pitch. Coupled with freebies, these popups can be incredibly effective. One OptinMonster user built an exit popup offering a free consultation call and a coupon. As a result, their conversion rate soared by 500%.  
On-page communication, such as live chat and notifications, is another great strategy. Push notifications are particularly powerful. A PushEngage case study found that visitors subscribe to them at 12 times the rate of email newsletters. They also open them twice as open, and stay subscribed for longer. 
| | |
| --- | --- |
| Web Push Metrics | Result |
| Subscription rate for push notifications | 12 x higher than e-mail |
| Open rate for push notifications | 2 x higher than e-mail |
| Click through rate for web push in mobile  | 2.7 x higher than desktop |
| Increase in retention (after 6 weeks) | 10 times better than e-mail |
| Increase in recurring users (in 6 months)  | Increased by 39% |
Upgrade Content With Positive Data 
Another analytics-based way to improve conversion and retention rates is to focus on the positives. Which pages do particularly well? What content is most popular among first-time visitors? What keeps repeat visitors coming back? Once you have pinpointed customer preferences, capitalize on them. Expand popular blog posts into ultimate guides. Offer freebies such as PDF guides in return for email sign-ups. 
OptinMonster clients have significantly improved their key metrics by implementing content upgrades. SEO expert Brendan Hufford, for example, saw his bounce rate decrease by 3% and session duration increase by 20%. 
Add Social Proof to Increase Visitor Trust and Engagement 
Finally, there is another invaluable element that boosts customer conversion and retention rates: social proof. Social proof highlights the reach of your business, the trust that scores of other people put in it, and that they are satisfied with your results. The most direct form of social proof is reviews and testimonials, of course. 
However, there's much more to social proof. One tactic is to implement real-time event notifications. This lets website visitors know that others are currently engaging with your content and your products. In visitors, this establishes basic trust and a sense of community.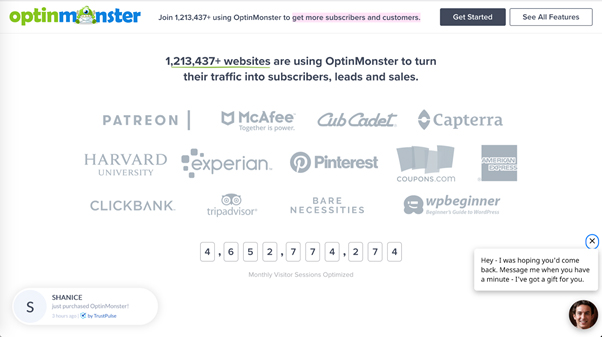 Finally, showcase prominent clients and news coverage on your websites. This underscores that it's not just individuals who trust your business, but also household names in your industry, and impartial media.
Conclusion 
On an average site, just 2 out of 100 visitors are actually converted. But you can do better than the average. Find the weak spots in your website user experience, catch the attention of those who are about to leave, implement social proof, and communicate on different channels. By acting on the right kind of data insights, you'll be able to convince potential customers to stick around.