What an excellent year Lucky Cement has had. The company announced its financial results on August 7 – and profit nearly quadrupled. In fact, all numbers have been frankly astonishing.
On an unconsolidated basis, gross revenue shot up 41.8% from Rs63 billion, to Rs 88 billion, while net revenue shot up 50.3% to Rs62 billion. But perhaps the greatest increase was witnessed in the net income, which rose an astonishing 320.8% from Rs3.3 billion, to Rs14 billion. The same can be seen in the consolidated numbers as well: the company's consolidated net profit rose by 273% from Rs6.1 billion to Rs22.9 billion. 
This begs the question: what happened in 2021? That, however, would be the wrong way to view these numbers. The better question is: what happened in 2020? It is that outlier year that stands out in a decade of otherwise extraordinarily high income and returns. It is also what explains the high growth rates – after all, the base year for which we are measuring is so low.

First, some context on the company. Lucky Cement is part of the Yunus Brothers Group, which is behind such companies as Gadoon Textile Mills, Yunus Textiles, Tabba Heart Institute, Tabba Kidney Institute, and perhaps most famously, the LuckyOne Mall in Karachi, which is the largest mall in Pakistan. Lucky Cement in turn owns 55% of ICI Pakistan, and 71.55% of Kia Lucky Motors, among others. Members of the Tabba family sit on the board of directors, while Muhammad Ali Tabba is the CEO. 
The company was incorporated in 1993, and listed on the then Karachi Stock Exchange in 1994. It commenced commercial operations in 1996., and by 2005, had become Pakistan's largest cement producer, and by 2006, had become Pakistan largest cement exporter. Lucky Cement signed a joint venture to set up a cement plant in the Democratic Republic of Congo in 2011, and another joint venture to set up a cement grinding plant in Iraq in 2012. Interestingly, the company bagged some local recognition: the CEO was awarded the Sitara-i-Imtiaz in 2018, while the chairman was awarded the Sitara-i-Imtiaz in 2019. 
Article continues after this advertisement
The registered office of the Company is located at Pezu, District Lakki Marwat in Khyber Pakhtunkhwa, and the head office is situated at Muhammad Ali Housing Society, in Karachi. The company has two production facilities: at Pezu, District Lakki Marwat, and at Main Super Highway in Karachi.
In 2008, the company's net revenue stood at Rs16 billion, before steadily climbing, and crossing the Rs40 billion mark in 2014. It then stayed above this threshold for the next six years. In 2014, the company's net turnover stood at Rs 44.8 billion, climbing to its peak of Rs 48 billion in 2019. Net income also mirrored this pattern, mostly; it rose to a peak of Rs13.7 billion in 2016, and then fell to Rs10.49 billion in 2019.
And then 2020 happened. That year, net income fell to Rs3.34 billion – the lowest it had been since 2010.  According to the company's annual report ending June 2020, "As a result of Covid-19 lockdowns locally and internationally during fourth quarter 2020, both local and export sales were adversely affected."

That was only a blip, however. In the company's financial results for 2021, it notes that the phenomenal growth in sales volume was due to that very pent up demand because of the Covid-19 lockdowns. It also mentioned several government policies, meant to spur growth in the housing and construction sector. One of those policies was the mandate by the State Bank of Pakistan for the banking sector to increase lending towards construction and real estate to equal 5% of their total private sector lending.
Then in July of this year, the Prime Minister announced major construction projects and provided a subsidy of Rs30 billion for the Naya Pakistan Housing Project so that people could build their dream house at an affordable cost. The many projects of the China-Pakistan Economic Corridor (CPEC)  are also still ongoing, pandemic or no pandemic. In fact, another Rs69 billion was allocated for dams. 
This led to a rapid increase in the cement industry: which grew 20.1% to 57.45 million tons during the year ending June 2021. Local sales volume grew by 20.4% to 48.13 million tons, while export sales grew by 18.7% to 9.31 million tons.
And this was bound to have a spillover effect on Lucky Cement. The company's sales volumes grew 30.7% to 9.96 million tons, of which local sales volumes grew by 38.3% to 7.56 million tons, while export sales grew by 11.3% to 2.41 million tons.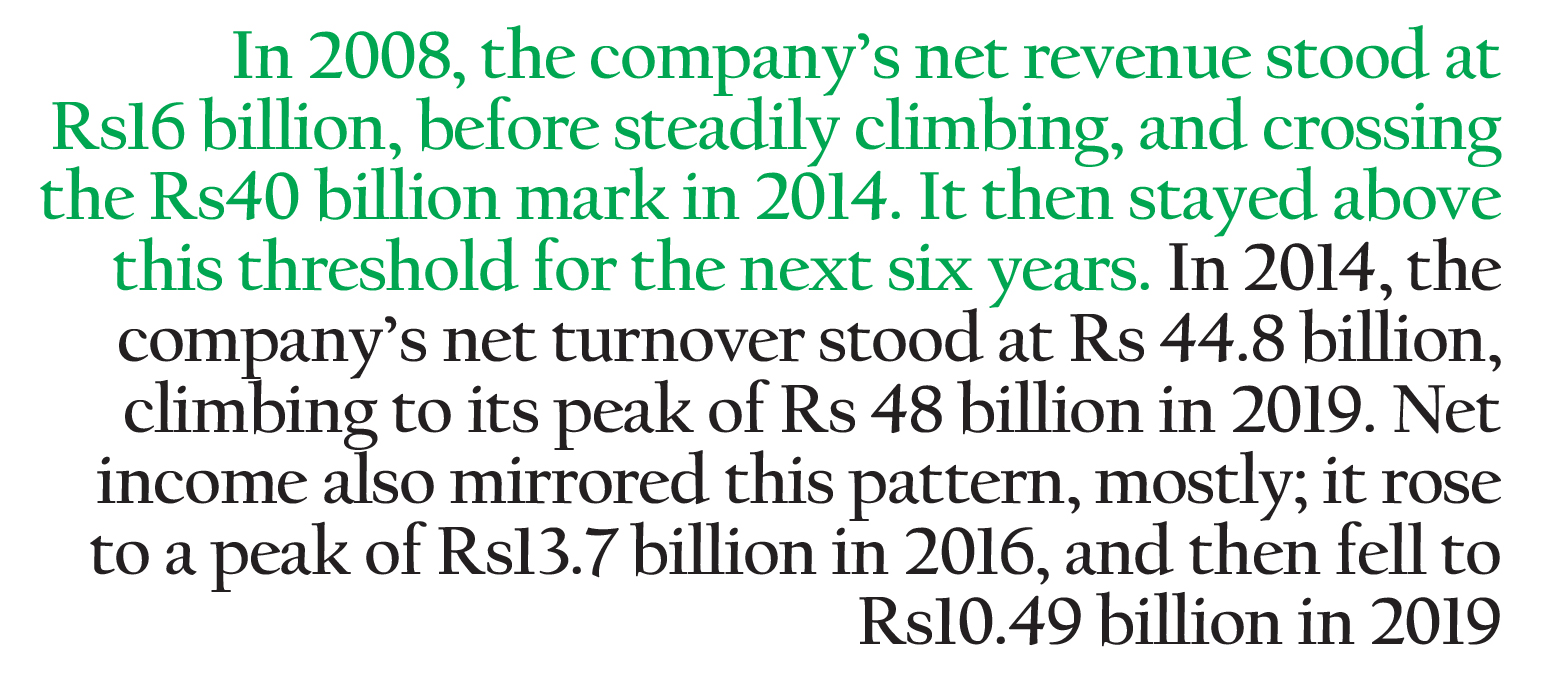 What's to credit for this growth? According to Lucky Cement, it is the government factors, and also their new plant which became operational in December 2019. It also attributed its high export sales to the fact that it is the only company with a mechanised facility to export loose cement at the Karachi port. This explains why it has a 25.8% share of the cement export market (Its other figures are not too bad either: it has 15.7% share of the local sales market, and bags a 17.3% share of the overall cement market).
And the company is not stopping anytime soon. It is increasing its cement production capacity at the Pezu Plant by 3.15 million tons per annum, and is going to invest in a lignite coal based power plant, which should start commercial operation  in October 2021.