LAHORE: Sazgar Engineering Works Limited has notified the Pakistan Stock Exchange (PSX) that it will be observing non-production days (NDPs) from February 27 to March 4. The NPDs will be observed by the company's four-wheeler plant, however, its three-wheeler plant will remain active. This will be the first set of NPDs Sazgar will observe since it began production of its four wheelers. 
The company has cited government measures to restrict imports as the reason for it being unable to import the requisite completely knocked-down (CKD) kits and raw materials, and thereby, forcing it to observe NPDs.
Possibly suffering from success? 
Sazgar is one of the newer players in Pakistan's automotive market with it locally producing its BAIC BJ40 in September 2021, and its Haval line of vehicles in August 2022. The company's foray into the four-wheeler market has been a resounding success in terms of its larger broader revenue makeup. 
The four-wheel segment accounts for 54% of Sazgar's revenue in FY22 based on its annual report for 2022. The share has only increased since then. Four wheelers accounted for 72.42% of Sazgar's revenue from July to December 2022, whilst they accounted for 82.17% of revenue between October to December based on Sazgar's HFY23 earnings report. The latter period is particularly important, because not only did Sazgar launch its CKD edition of the Haval lineup during this time period, but it also managed to introduce Pakistan's first CKD hybrid electric vehicle (HEV) during this time on November 17.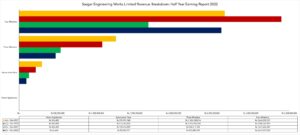 Ammar Hameed, Director at Sazgar had told Profit in 2022, when the company announced its HEV in particular, that "We are able to cater to demand whilst being within the quota that has been allocated to us. We're not in a position similar to the Big 3 whose productive capacity likely exceeds their quotas. The State Bank's quota is not a problem for us right now. However, it will likely encumber us in a year or so if the current quota persists". 
The steady increase in the uptick of sales for Sazgar's four wheelers might have caught them off guard as well, and might just be one reason why the company might have to face NPDs. 
Another fallen player in a sea of NPDs 
The more likely reason, without dismissing the possibility of the previous explanation entirely, is that it too has fallen prey to the macroeconomic problems plaguing the industry currently. Various other automotive manufacturers have also announced NPDs in 2023 prior to this. 
Suzuki has previously announced NPDs from January 2 to January 6, from January 9 to January 13, from January 16 to January 20, and from February 13 to February 21. Toyota observed NPDs from February 1 to February 14 with the decision to shift to a single shift upon the resumption of regular production from February 15. 
Finally, Millat Tractors observed NPDs, albeit for different reasons but reasons that were still centered in the macroeconomic conditions, from January 6 January 15.