LAHORE: Hyundai and Lucky Motors have introduced their fifth and sixth price increase for 2023 respectively. The price increases come after the two had previously revised their prices upwards on March 13 and March 10 respectively following the Federal Board of Revenue's (FBR) decision to increase the GST levied on automobiles to 25%.  
The decisions by the Korean manufacturers are more likely attributable to the US Dollar settling at the new threshold of upwards of 280 against the Rupee. This is because both companies only cited the FBR's decision to increase the GST as the basis for their previous price increases earlier this month. It was expected then that a further increase was probable if the Dollar remained above the 280 threshold, which it has since done so. 
KIA 
The new prices for KIA's portfolio are as follows: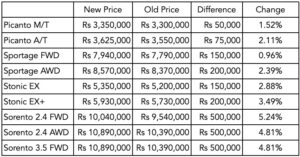 This marks the sixth upward price revision that KIA has made in 2023. The previous price revisions came on January 31, February 21, February 24, and February 28, and March 10. 
Hyundai 
The new prices for Hyundai's portfolio  are as follows: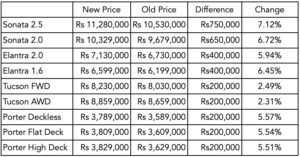 Between a rock and a hard place; is the middle class dream of car ownership over? 
Manufacturers seem to be in a race to increase prices, leaving prospective buyers reeling. In just one year, prices have risen by a staggering 53.83%, with customers now paying an average of Rs 2.8 million more for a car than they did a year ago. This bleak situation leaves many who have worked tirelessly to achieve their dreams of car ownership facing the prospect of giving it up or sacrificing other essentials to make ends meet 
Read this week's story in Profit Magazine to understand whether the middle class aspiration to own a car is completely over or not. 
Read more: Have car prices sleepwalked into no-man's land where nobody can afford them anymore?