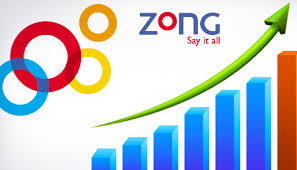 Pakistan's largest 4G service provider, Zong has announced $200m investment at its annual business conference.  Addressing the inaugural session, Zong's CEO Liu Dianfeng reflected on the company's strong positive growth momentum and stable operations with a high trend of upward revenues forecast in 2017 on the account of large-scale network enhancements, additional 3G/4G sites poised to reach the highest mark of 10,500 and strong results from its data business.
"We are committed to an additional investment of more than $200 million in adding more 4G sites to its already widest and largest 3G/4G network. Zong will continue to build on its success by focusing on making it the widest, strongest and fastest network of Pakistan" the CEO said.
The management expressed strong optimism stating that the company is ready to take on new challenges as confidence soars high with the company's exceptional performance in 2016 coupled with unprecedented achievements in company history.
Zong's top management reaffirmed their resolve to continue and consolidate the gains and achievements of the last year in 2017.
Other senior members of Zong also outlined the achievements of their respective domains in 2016, while highlighting their ambitious plans for 2017. The management outlined Zong's enterprise solutions and how they would play a pivotal role for businesses and Small Medium Enterprises (SME's), in addition to the growing demand of Zong's Internet bundles and devices.
The conference was hosted by Director Corporate Affairs Maham Dard which was followed by a reward and recognition ceremony by Zong's HR department, in recognition of the services of the employees who had strongly contributed to Zong's growth in 2016.
It is pertinent to mention that Zong achieved its 4G roll out target three months in advance in the year 2016 and has the highest number of 4G subscriptions at more than 2 million subscribers. The company has expanded its coverage to more than 200 cities of Pakistan and will be continuing network expansion in the ambitious plans laid out by their senior management at the Annual Business Conference 2017.