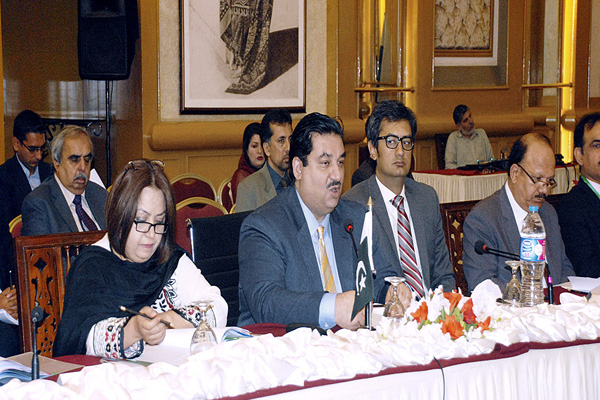 The 4th session of the Pakistan- Belarus Joint Ministerial Commission (JMC) on Trade and Economic Cooperation was held this week to underline the need for diversifying bilateral economic cooperation including research and development and transfer of technology.
Pakistani side was led by Federal Minister for Commerce, Khurram Dastgir Khan and the Belarusian team was headed by their Minister of Industry Vitaly Vovk.The meeting emphasised that bilateral relationship should be moved ahead within a framework of tangible and time-bound initiatives.
It also recommended technology transfer, opening of banking channels to facilitate business and sharing of selected items to be traded on preferential tariffs.For implementing the task of increasing the trade turnover between Belarus and Pakistan to one billion US dollars by the year 2020, both sides decided to identify and endorse the list and the volume of priority goods and services for mutual trade in accordance with the interests of the sides.
Moreover, State Bank of Pakistan would consult with Pakistani banks for opening branches in Belarus. The proposals would be shared with Belarusian side at the end of May 2017.
Similarly, the Belarusian side would also firm up their proposals and share with Pakistani side.
The two sides noted the need for further development of inter-banking cooperation and in particular between the Development Bank of the Republic of Belarus, the National Bank of Pakistan and Zarai Taraqiati Bank (ZTBL) to export credit and international leasing to promote the development of bilateral trade.
Belarusian side would welcome the Pakistani delegation to the single country exhibition scheduled in July 2017 at Minsk.In addition, the Belarusian side will assist in the selection of  Belarusian companies interested in setting up joint ventures with Pakistani companies according to the interests of the Pakistani side with the provision of transfer of technology.
In addition, the two countries agreed to continue negotiations on establishment of joint ventures in Pakistan for production and processing of agricultural products and discussed the mechanism of realisation of the project. The two teams agreed that on completion of all internal procedures for the opening of the skills university, the Pakistani side would invite the Belarusian side to provide methodological assistance in its functioning.