As per reports Sima Kamil, Head of branch banking at Habib Bank limited (HBL) could become the first woman to head one of the big five commercial banks in Pakistan. An internal circular available with Profit confirms that Kamil has left HBL after working at the bank for 16 years.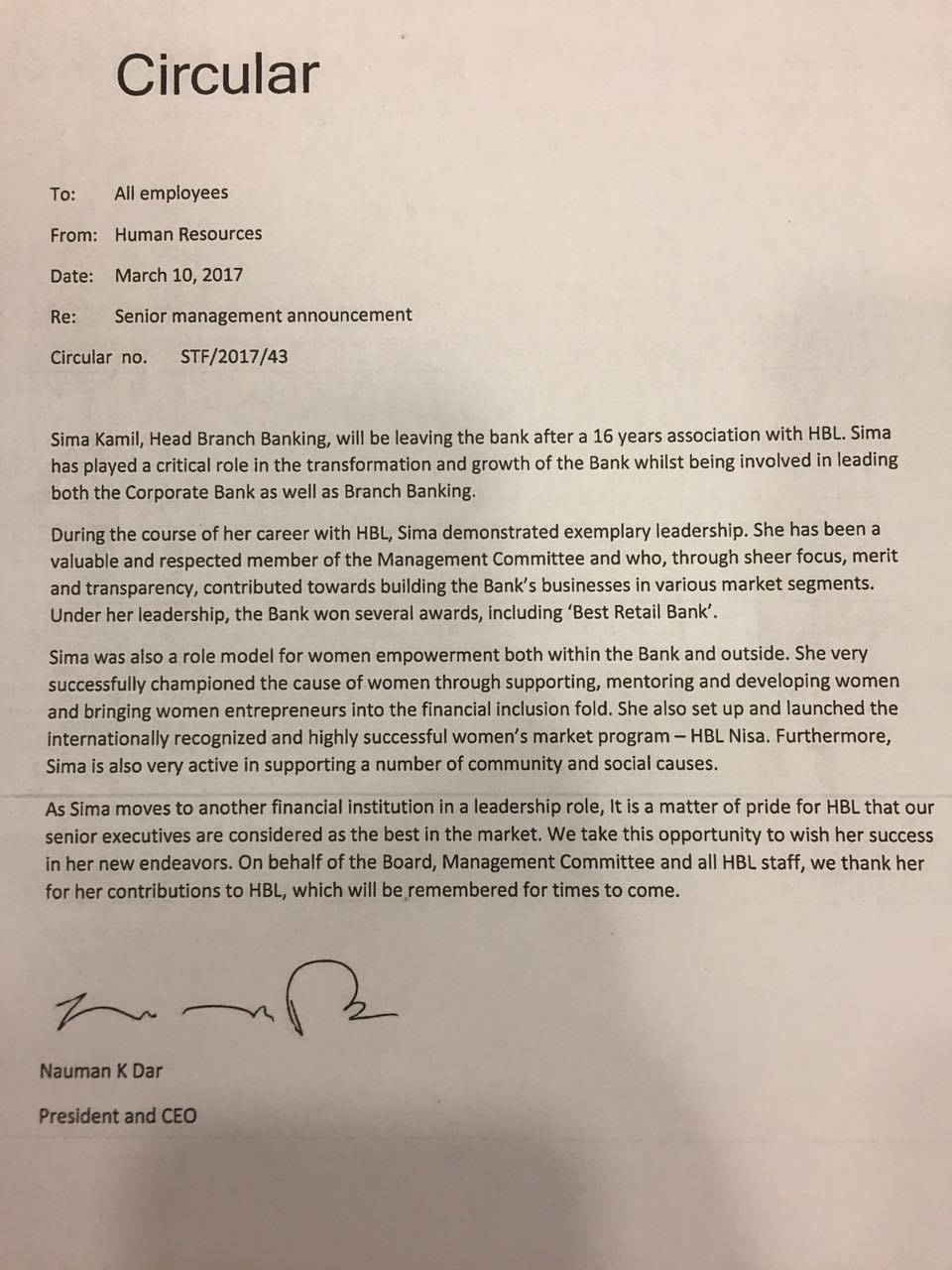 Rumours suggest that she could be joining UBL as its next President & CEO. Some sources from the banking sector claim that she will initially be joining UBL as a deputy CEO. UBL however through a press release has denied any change of guard at the top. The unsigned PR reads:
"The Board of Directors (BoD) of UBL repose fullest confidence in the President & CEO, Mr. Wajahat Husain and the Management Team of the Bank. The BoD strongly rejects all rumours being spread on this matter. The BoD also records its appreciation for achieving record financial results, improving efficiency of the Bank and the awards and recognition received under the leadership of Mr. Wajahat Husain."
Profit recently included Kamil in its list of 'Pakistan's powerful women in business' and probably correctly predicted that she could soon be heading a major bank in Pakistan. However, it would come as a huge surprise if she replaces Wajahat Husain at UBL. Husain based on his performance has remained the highest paid banker in Pakistan getting hefty raises every year. Also going by the most recent financials, Husain should've been looking at another handsome raise. UBL boosted its net profit by 7.8% to Rs27.7 billion and gave a total shareholder return of 66% in 2016. This is the highest return by any bank in the listed sector, outperforming the market by 20% in a year when banking sector's overall profitability remained almost flat. On top of this, UBL under Husain had recently been adjudged the Best Bank in Pakistan in Pakistan's first banking awards.
Sima Kamil, had been leading HBL's Branch Banking since 2011 and was overseeing the 1,700-strong branch network of HBL, dealing in Retail, Consumer, SME, Rural Banking and Wealth Management.
Kamil, who holds an MBA from City University, London, is one of the most experienced bankers in Pakistan with 25 years of experience, a clear indication that she ventured into banking and finance at a time when the country's financial services sector was a male dominated profession. She was previously associated with American Express Bank and Standard Chartered Bank. Her past assignments also include heading HBL's Corporate banking division. Kamil also served as Director of HBL Asset Management Company Limited.