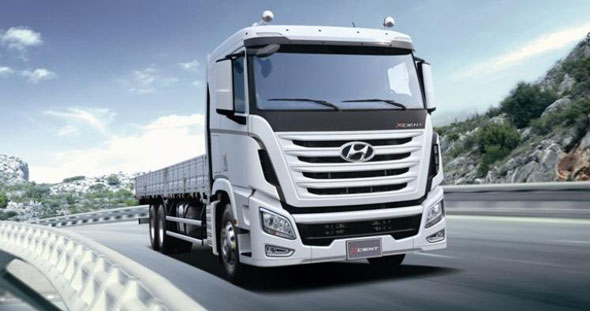 Al-Haj Group has announced to launch Heavy Commercial Vehicles (HCV) from May 19 in Pakistan through a Technology Transfer Contract (TTC) with Hyundai Motor, a known brand in South Korea, said Bilal Khan Afridi, CEO of Al-Haj Hyundai.
In a press conference here on Thursday, Afridi said, "Initially, the company has invested around Rs 1.5 billion in Al-Haj Hyundai Pvt Ltd, a separate entity with FAW motors, but in the second phase, the company would invest Rs 2.5 billion more by the end of 2019."
Hyundai, a former automotive pioneer recognised all over the world, has now joined hands with Al-Haj Group with the purpose of introducing top-of-the-line heavy commercial vehicles under the subsidy of Al-Haj Hyundai Pvt Ltd. Hyundai's excellent quality and product support, and Al-Haj Group's dedication and name in the market since 1960, will aim to upgrade the standard of high-quality commercial vehicles.
The China-Pakistan Economic Corridor (CPEC) has the potential to facilitate 4 per cent of the global trade volumes to pass through Pakistan by the year 2020. It will accelerate the economic growth of Pakistan and several other countries in the surrounding region, through the development of the 21st century Maritime Silk Road, encompassing a modern trade and infrastructure network, he added.
With the demand for heavy duty vehicles on a sharp rise, Al-Haj Hyundai Pvt. Ltd. is initially introducing heavy duty truck XCIENT, with a different variant, UNIVERSE Luxury buses, for intercity travel and Mighty Medium and Light Duty Trucks. Later on, Al-Haj Hyundai also plans to introduce various other products of Hyundai in cargo and passenger handling segments.
Afridi said, "This joint venture with Hyundai Motors is a wonderful business opportunity for both the companies and will not only provide employment opportunities but will also upgrade the standard of local commercial product segments with advanced Technology and high-quality products."
Al-Haj Hyundai also plans to construct a state-of-the-art manufacturing cum assembling plant for Hyundai-HCV vehicles. For the plant, the company has already purchased 30 acres of land on the main National Highway and the first phase of the plant will be operational by May 2018.
Hyundai operates the world's largest integrated automobile manufacturing facility in Ulsan, South Korea, which has an annual production capacity of 1.6 million units covering 193 countries.