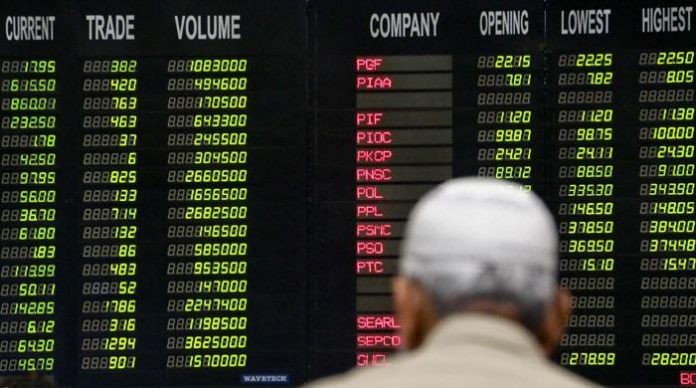 KARACHI
After performing poorly for the past week, the Pakistan Stock Exchange turned green on the first day of the trading week. The re-alignment of MSCI FM markets to EM status processed to play a part in the overall performance of the market as the situation swung back from the last week's heavy sell offs by foreigners.
The benchmark index KSE 100, after losing over 4,000 points last week, gained momentum and closed at 50,120 (+3.22 per cent) gaining 1,565.63 points during the day. Monday, saw the benchmark KSE100 index green throughout the day with around 600 points added in first 15 minutes of trading. The KMI 30 index gained 2,739.04 points (+3.27 per cent) and the KSE All Share Index was up by 931.41 points (+2.76 per cent).
All 30 scripts ended on a high for the KSE 30 index. This is dubbed as a great achievement. A total of 317 scripts advanced, 45 declined while 15 remained unchanged. The market volumes surged from 221.76 million to 255.14 million for the day. Leaders were in the shape of The Bank of Punjab (R) (BOPR +20.93 per cent) followed by Power Cement Limited (R) (POWERR +11.0 per cent).
In another bid, the large sectors enjoyed uplift as the commercial bank sector, oil and gas exploration sector and cement added 3.53 per cent, 2.13 per cent & 3.52 per cent to their respective market capitalizations during the day. As the day progressed, an increase in crude oil prices was also witnessed as tensions simmered after Saudi-led four country coalition cut-off diplomatic and transport ties with Qatar. A major world news among the largest oil producing countries, this still had little effect on PSX as all the scripts listed in Oil & Gas Marketing and Exploration sectors remained green during the day.
The Sui Southern Gas Company Limited (SSGC) also simmered with a 4.49 per cent increase.