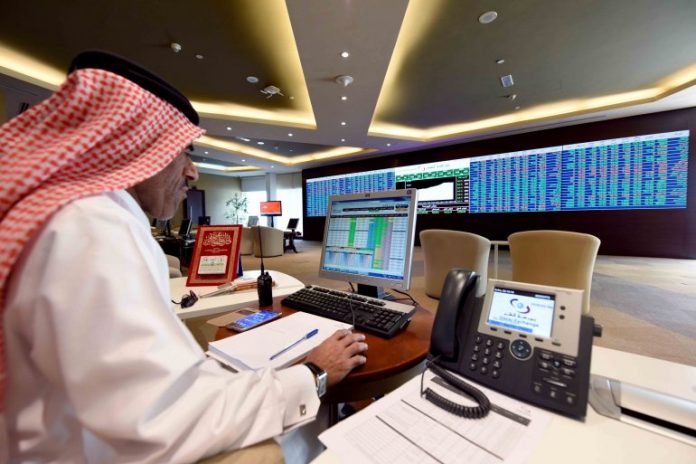 Qatar's stock market plunged on Monday after four Middle Eastern states severed ties with Doha, while Saudi Arabian shares rose on hopes that index compiler MSCI will move towards upgrading it to emerging market status.
The Qatari index tumbled 7.3 percent, erasing over $8 billion of value, in the heaviest trade for nearly three months.
It was the index's steepest drop since late 2009, during the global financial crisis.
Saudi Arabia, Egypt, the United Arab Emirates and Bahrain severed air, sea and land transport links with Doha, accusing it of supporting terrorism.
Some Egyptian banks stopped dealing with Qatari institutions, but Saudi and UAE banks said they had not made such a decision so far.
With an estimated $335 billion of assets in its sovereign wealth fund, a trade surplus of $2.7 billion in April alone and extensive port facilities which it can use instead of its land border with Saudi Arabia, which has been closed, it appears likely Qatar can avoid a severe economic crisis.
The six countries in the Gulf Cooperation Council do little merchandise trade with each other, instead relying on imports from outside the region.
The GCC countries account for less than 10 percent of daily trading on the Qatari stock market.
Nevertheless, the diplomatic rift could have a serious impact on some business deals and companies in the region, particularly Qatar Airways, which can no longer fly to some of the Middle East's biggest markets.
"Blocking sea, air and land (routes) shows a credit-negative escalation. And we're concerned that could have a credit impact if it disrupts trade and capital flows," senior Moody's Investors Service analyst Mathias Angonin told Reuters.
Selling of Qatari stocks was indiscriminate, with Vodafone Qatar, the most heavily traded stock, and Mesaieed Petrochemical both sliding about 10 percent.
Qatar National Bank, the largest bank, dropped 6.1 percent.
However, several fund managers said selling might quickly ease on Tuesday if investors started betting on some resolution to the diplomatic dispute, or if state-linked Qatari funds began buying to support the market.
"I think you will start to see GREs (government-related enterprises) stepping in to support the market over the next few days," said a Doha-based asset manager.
Talal Touqan, head of research at Abu Dhabi's Al Ramz Capital, said it was not clear how long the dispute would last and markets could recover quickly if tensions eased.
"This is a reaction to political noise which has a direct impact on volatility – it may be short-lived and fully reversible if the political situation starts to abate," he said.
Saudi Arabia's index fell in early trade in response to the news on Qatar but recovered later and finished 0.5 percent higher.
The market has been buoyed in recent days by expectations that MSCI will decide on June 20 to begin a review of whether to upgrade Saudi Arabia to an emerging market, which would attract billions of dollars of fresh foreign money.
Investors have therefore been buying stocks that foreign institutional investors are expected to favour, such as petrochemical giant Saudi Basic Industries, which climbed 1.6 percent on Monday.
Al Baha Investment jumped its 10 percent daily limit for a second straight day; it resumed trading on Sunday after a four-year suspension because its accumulated losses exceeded regulatory standards.
The suspension was lifted after Al Baha took action to reduce those losses.
Dubai's index fell 0.7 percent, mainly because of Shuaa Capital, which lost 5.3 percent, and GFH Financial, which tumbled 4.7 percent.
GFH said it had agreed to "postpone" talks to acquire Shuaa because neither party had reached acquisition terms and or received initial regulatory approval.
It did not indicate when talks might resume and Shuaa did not issue any statement.
Builder Drake & Scull, which has been rebounding from a multi-year low in the last few days, surged 6.5 percent in active trade and was the most heavily traded stock.
Egypt's index edged up 0.2 percent. Qatar National Bank Alahly, the Egyptian unit of QNB, slipped only 0.3 percent in response to the diplomatic row; its free float is tiny and trading volume was miniscule, however.