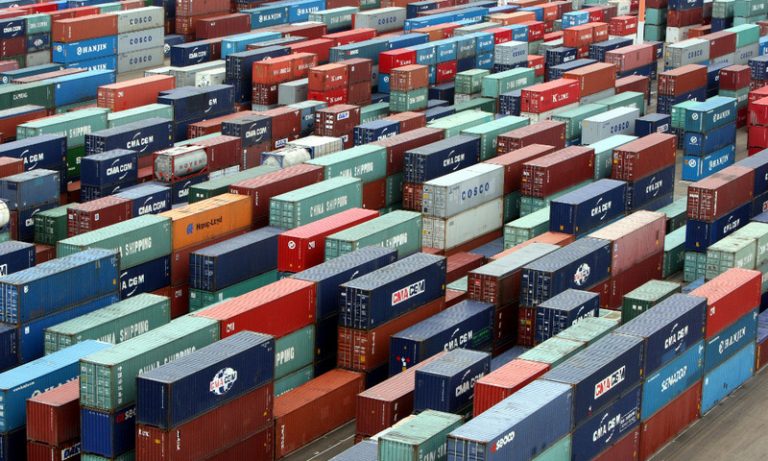 Islamabad: According to data available from the Ministry of Commerce, Pakistan's non-textile exports for financial year 2016-17 fell 4pc on an annual basis reaching $7.99b.
Receipts from exports of fish rose by 21pc, wheat 512pc, oil seeds & nuts 57pc, spices 10pc, sugar 10pc and tobacco 35pc. Rice exports recorded a decline of 13.6pc, fruit exports fell by 10.6pc, vegetable exports went down by 12.48pc and meat exports decreased by 17.82pc.
Due to enactment of anti-dumping duty on cement by South Africa, Pakistan's cement exports to the country went down by 24pc in quantity and 26pc by value. Exports for coal and petroleum groups cumulatively increased by 18pc from last year, with petroleum products exports rising by 31pc. Solid fuel exports declined by 100pc in FY 2016-17 and petroleum crude exports went down by 26pc.
Pharmaceutical product exports rose by 3.63pc and plastic material by 14.48pc in FY 2016-17. Furniture exports went down by 15pc, jewellery by 26pc and gem exports decreased 23.73pc during FY 2016-17. Molasses exports increased by 38pc and handicrafts saw a rise in exports of 73pc.
Leather manufactured products exports went down by 6.49pc, leather footwear by 9.27pc and overall footwear exports declined by 13pc during FY 2016-17. Overall sport goods exports fell 5.17 pc including football exports which declined 11.77pc on a year on year (YoY) basis. Tanned leather exports fell 4.73pc during the same period.
Medical instruments and surgical goods exports fell by 5.50pc during FY 2016-17. Exports of rugs, mats and carpets declined 19.63pc in the period under review.