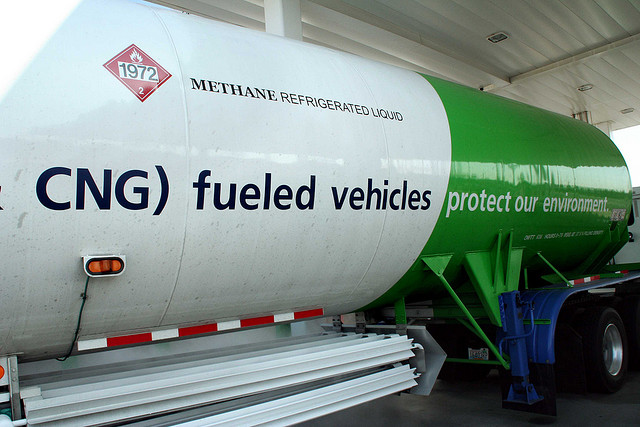 ISLAMABAD:  All Pakistan Compressed Natural Gas Association (APCNGA) is confident that the CNG sector would fully revive with the increased import of Liquified Natural Gas (LNG) during the next two years, the association's leader Ghiyas Abdullah Paracha told APP on Sunday.
"Around 3,200 CNG stations were operating in 2012 when natural gas supply to the outlets was stopped due to the scarcity of the commodity; but now after May 26, 2016, around 2300 stations have restarted their operations—a courtesy to LNG," he said.
With effective policies of the government, he said, a number of private sector investors were taking a keen interest in setting up the LNG terminals and import of the gas; he hoped that in next two years Pakistan would have the market of one billion cubic feet per day (bcfd) LNG.
Currently, Pakistan State Oil is importing 600 mmcfd LNG and its volume would be doubled soon.
Paracha said CNG stations were operating round-the-clock a week and getting uninterrupted supply of gas, adding that the association was planning to start import of latest CNG kits and cylinders.
"We have got approval from Oil and Gas Regulatory Authority (OGRA) to import lightweight CNG cylinders and latest Electronic Fuel Injection (EFI) compatible kits, which will add eight to ten per cent to the mileage of vehicles," the chairman remarked.
The association, he said, had finalised all the arrangements to start import of new lightweight 22kg CNG cylinders and compatible kits, which could be used in 660cc to 3000cc vehicles.  "Two foreign companies from Italy and Singapore have agreed to provide EFI compatible CNG kits and new lightweight cylinders in Pakistan," he added.
The chairman said the lightweight cylinders would have the same eight kilogrammes CNG filling capacity as of the old 60 kg CNG cylinders, adding that the new technology would be easy in handling and useful in fuel consumption, which would give better mileage.  "It will be cost-effective as compared to the increased prices of vehicles. However, the price of new cylinders and kits will be determined after their import," he said in reply to a question.
In 2012, he said, Pakistan was on top among CNG-user countries with 3.7 million CNG-run vehicles.
"It will be the future of inexpensive and environment-friendly fuel, almost 30 per cent cheaper than the petrol at the existing rates. Currently, CNG stations are consuming 100 mmcfd gas and it will be increased to 250 mmcfd level soon," he remarked.