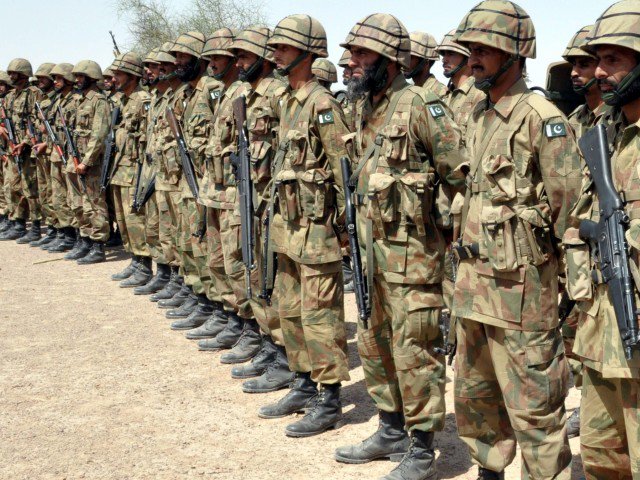 LAHORE:  The Pakistan army exercises control over fifty conglomerates said to be worth $20 billion stretching from banks, industrial plants, universities, milk dairies, stud farms, cement plants, bakeries etc reported  Quartz India.
The report authored by a Lt. General Kamal Dhavar claimed that the powerful Pakistani military owns stakes in various prized sectors, but it's shining asset is the eight housing societies it owns in several towns across Pakistan. Army officers are entitled to receiving prime lands in these housing societies at discounted rates, claimed the ex Army man who had fought two wars against Pakistan. The author did not elaborate on how he came up with the $20 billion figure, however, Ayesha Siddiqa a Pakistani author in a tweet wrote that the actual figure is even higher than this.
https://twitter.com/iamthedrifter/status/933024186250989570
Military awards are also conferred to army personnel linked with grant of farm lands and housing plots. This process of giving lands to army personnel was initiated during General Ayub's regime in the 1960's and was consolidated later by General Zia during the mid-1970's.
As per the report, General Zia-ul-Haq initiated practice of involving serving armed forces officers by giving military lands and cantonments for commercial venture purposes to regional corps commanders. This resulted in many senior army officers purchasing several plots at 'throwaway rates' in various cantonments.
The process of acquiring these prime lands resulted in corruption amongst the civil bureaucracy and the military. The army officers started to assert and increase their influence by setting up various foundations for assisting retired military personnel and infiltrated into the heart of the country's economy.
It thrust the military into become a mainstream business stakeholder in country's economy and spread its wings at three levels with Ministry of Defence (MoD) being the foremost of its economic powerhouse.
Department of military land and cantonments (MLC), Fauji Foundation, Rangers are directly controlled by MoD. All these three services also have their own welfare foundations. It also holds stakes in public-sector entities like National Logistics Cell (NLC), Frontier Works Organization (FWO) and Special Communications Organization (SCO).
MOD isn't directly managing economic activities of these entities under its influence, but is a tool for deploying resources, provide legal status to such several commercial ventures and subsidiaries which are permitted to operate independently.
Army Welfare Trust (AWT), Fauji Foundation, Shaheen Foundation and Bahria Foundation are the additional four subsidiary entities involved in economic activities whom the top military brass directly controls.
All these above-mentioned entities are run by retired army officers and profits amassed from them are shared with shareholders who are also retired military personnel. It ranges from commercial ventures such as cement manufacturing, cereal production, banking entities, education, universities aside airport services, shipping & harbor services etc.
Ministry of Defence has played a critical part in obtaining public sector business contracts, financial and industrial inputs at discounted rates too.
Note: An earlier version of this article erroneously mentioned the total claimed worth of the conglomerate as $50 billion. The error is regretted.