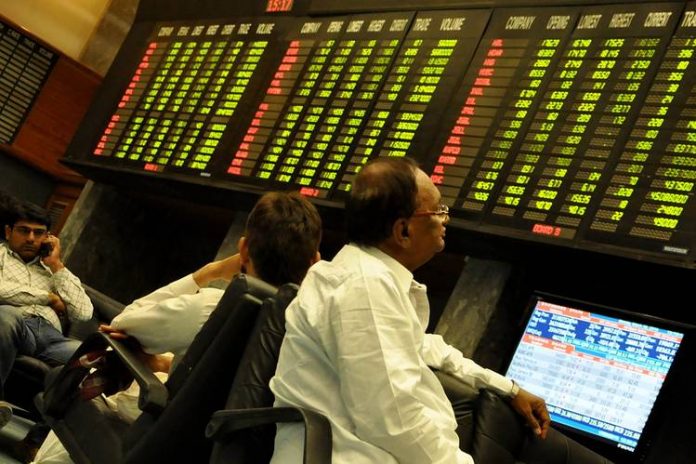 LAHORE: The Pakistan Stock Exchange (PSX) was off to a weak start, as it took inspiration from regional markets following a global sell-off late last week amid fears that rising tensions between the United States and China could lead to a full-blown trade war.
The KSE 100 index fell down 245.41 points to intraday low of 44,784.81 and added 87.94 points to its account to reach day's high of 87.94 points. The index closed changed by a mere 53.35 points at 45,083.57.
The KMI 30 index rolled higher by 334.78 points and lower by 331.31 points to ended with a 222.99 points gain at 76,280.35. The KSE All Share Index failed to recover from the red and settled down 32.80 points at 32,310.57. The advancers to decliners ratio stood at 159 to 166.
The market volumes were recorded at 187.92 million with Unity Foods Limited (UNITY +3.15 per cent) on top with 24.79 million shares exchanged. Lotte Chemical Pakistan Limited (LOTCHEM +2.39 per cent) followed with 10.49 million shares exchanged and Fauji Foods Limited (FFL +4.41 per cent) with 10.08 million shares.
Large sectors closed the day with minor to no alternation in its market capitalisation; however, the commercial bank sector inched up by only 0.01 per cent. Habib Bank Limited (HBL) slipped by 0.75 per cent, MCB Bank Limited (MCB) was up by 0.19 per cent and United Bank Limited (UBL) by 1.83 per cent.
Oil and Gas Exploration sector remained top index contributor and added 51 points or 0.68 per cent to index in Monday's session, as rising geopolitical risk in the Middle East has led to a surge in crude oil prices. Oil and Gas Development Company Limited (OGDC) gained 0.50 per cent, Pak Petroleum Limited (PPL) gathered 0.55 per cent, Mari Petroleum Company Limited (MARI) 1.25 per cent and Pakistan Oilfields Limited (POL) by 1.27 per cent.
Tobacco stocks were down on Monday as the government has imposed a ban on loose cigarettes to reduce its consumption, where Pakistan Tobacco (PAKT) and Khyber tobacco lost 4 per cent and 1 per cent and closed at Rs1,971 and Rs693, respectively.
World Call Telecom (WTL) has announced its board's approval on an indicative term sheet for 3rd restructuring of TFC III along with the appointment of restructuring agent (Pak Oman Investment Company and Askari Bank).
Fauji Foods (FFL) notified the exchange regarding an increase in authorised capital of the voting class of the company to 700 million ordinary shares by addition of 104 million ordinary shares and deletion of 104 million non-voting shares of Rs10 each.
Meanwhile, Prime Minister Shahid Khaqan Abbasi has announced that a "tax incentive package" would be unfolded before the Budget 2018-19 but stressed that both the private sector and the government are needed to work hand-in-hand to achieve export targets.
Moreover, the Trump administration has added seven Pakistani companies to a list of foreign entities that presumably pose a significant risk to the national security and policy interests of the United States by allegedly engaging in nuclear trade.
Technically speaking, the KSE 100 index has started showing signs of exhaustion after testing resistance at 45,000. KSE 100 index is expected to test next resistance at 45,431 (50 per cent retracement from 53,127) and 45,494 (high posted on January 24). Immediate support is 44,300.