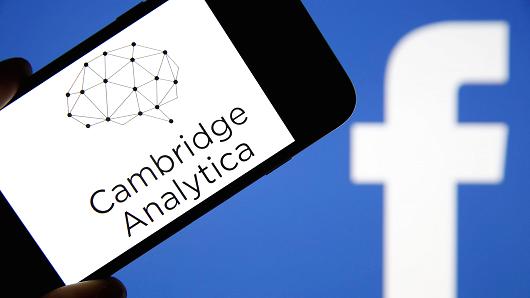 LONDON: Cambridge Analytica, the firm embroiled in a controversy over its handling of Facebook Inc user data, and its British parent SCL Elections Ltd, are shutting down immediately after suffering a sharp drop in business, the company said on Wednesday.
The company will begin bankruptcy proceedings, it said, after losing clients and facing mounting legal fees resulting from the scandal over reports the company harvested personal data about millions of Facebook users beginning in 2014.
"The siege of media coverage has driven away virtually all of the Company's customers and suppliers," the statement said.
"As a result, it has been determined that it is no longer viable to continue operating the business, which left Cambridge Analytica with no realistic alternative to placing the company into administration."
Allegations of the improper use of data for 87 million Facebook users by Cambridge Analytica, which was hired by President Donald Trump's 2016 U.S. election campaign, has hurt the shares of the world's biggest social network and prompted multiple official investigations in the United States and Europe.
"Over the past several months, Cambridge Analytica has been the subject of numerous unfounded accusations and, despite the company's efforts to correct the record, has been vilified for activities that are not only legal, but also widely accepted as a standard component of online advertising in both the political and commercial arenas," the company's statement said.
The firm is shutting down effective Wednesday and employees have been told to turn in their computers, the Wall Street Journal reported earlier.
The Cambridge Analytica sign had been removed from the reception area of its London offices on Wednesday. At SCL's Washington, D.C. office, a man declined to answer questions from a Reuters reporter.
After the announcement, Britain's data regulator said it would continue civil and criminal investigations of the firm and will pursue "individuals and directors as appropriate" despite the shutdown.
"We will also monitor closely any successor companies using our powers to audit and inspect, to ensure the public is safeguarded," a spokeswoman for the Information Commissioner's Office said in a statement.
Cambridge Analytica was created around 2013 initially with a focus on U.S. elections, with $15 million in backing from billionaire Republican donor Robert Mercer and a name chosen by future Trump White House adviser Steve Bannon, the New York Times reported.
Cambridge Analytica marketed itself as a provider of consumer research, targeted advertising and other data-related services to both political and corporate clients.
After Trump won the White House in 2016, in part with the firm's help, Cambridge Analytica CEO Alexander Nix went to more clients to pitch his services, the Times reported last year. The company boasted it could develop psychological profiles of consumers and voters which was a "secret sauce" it used to sway them more effectively than traditional advertising could.
One unanswered question in Special Counsel Robert Mueller's investigation into whether there was any collusion between Trump's campaign and Russia is whether Russia's Internet Research Agency or Russian intelligence used data Cambridge Analytica obtained from Facebook or other sources to help target and time messages during the campaign that were anti-Hillary Clinton, pro-Trump and politically and racially divisive.
Bannon was a former vice president of the London-based firm, and Mueller has asked it to provide internal documents about how its data and analyses were used in the Trump campaign, according to sources familiar with the investigation.