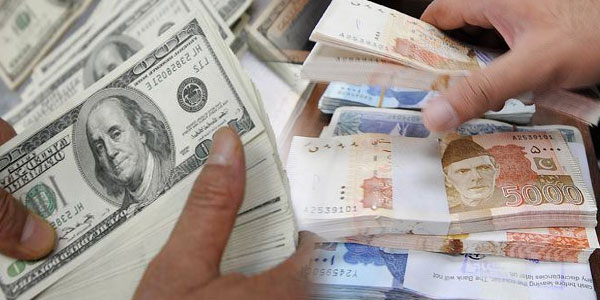 KARACHI: The rupee plunged to a record low of Rs119.35 in the kerb market against the US dollar on Friday, as dwindling foreign exchange reserves continue to impact the local currency.
It also touched a new intra-day low of Rs119.80, according to DollarEast Exchange Company's webpage, reported Express Tribune.
The rupee on Thursday had ended the day at Rs119.10 to the US dollar in the kerb market but it remained stable in the inter-bank market at Rs115.61, according to data from the central bank.
Experts believe the dwindling forex reserves of State Bank of Pakistan (SBP), which reached a four-year low of $10.03 billion as, on May 25th, low inflows due to stagnant exports and remittances would force the next elected government to devalue the rupee further to enhance exports and bring in a higher amount of remittances.
Many expecting an imminent devaluation of the rupee have started holding onto their dollars foreseeing a better return later.
This comes on the heels of the State Bank of Pakistan's decision last week to introduce identification requirements for all foreign currency buy and sell transactions equivalent to $500 or above on exchange companies and directed them to retain the copies of identification documents to comply with anti-money laundering rules which had contributed to slow down in the flow of dollars to the dealers.
Malik Bostan, President Pakistan Forex Association (PFA) highlighted continuing pressure on the rupee was due to increased demand of foreign currencies from Umrah pilgrims in Ramazan.
He added over two million Pakistani's have been given visas to perform Umrah since December 2017 and many people go during the holy month of Ramazan.
Mr Bostan further explained besides Umrah and Hajj demand, the Saudi riyal and UAE dirham used to be in surplus and which were used to import dollars from Dubai in exchange.
He added, "such foreign currencies are not in surplus now which has impacted the flow of dollars to the open market as well."
Previously, credit rating agency Moody's projected the rupee could plunge by 7.75 percent and touch Rs125 to the dollar by June 2019.