LAHORE: South Korean auto manufacturer, KIA Motors, in collaboration with its local partner Yunus Brothers Group – Lucky Cement, has launched Grand Carnival in Pakistan.
KIA recently inked an agreement with Yunus Brother's group to re-launch KIA brand under 'KIA Lucky Motors' in Pakistan, following the lucrative incentives offered by the Government of Pakistan under their Automotive Development Policy 2016-2021. The launch of Grand Carnival, 11 seater passenger vehicle, marks the return of the company into passenger cars after 9 years when it put a halt to its partnership with Dewan Motors and wrapped up their business from Pakistan.
As per the website of the company, Grand Carnival is equipped with a 3.3-litre engine mated to a 6-speed auto transmission. It produces 270 horsepower at 6,400 rpm and 318 Nm of torque at 5,200. The length, width, and height of the vehicle are 5115mm, 1985mm and 1767mm, respectively. The vehicle has the capacity for 11 individuals making it an incredibly smart car with spectacular design.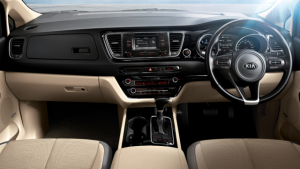 Article continues after this advertisement
The car boasts steering wheel remote controls having Bluetooth hands-free, auto speed control, auto air conditioning with 3-zone control, a sliding door button, push-button start, cluster (3.5˝ mono TFT screen), panoramic sunroof and dual airbags, an infotainment system, power seats, tri-zone climate control, smart key remote, an automatic defog system, conversation mirror, heated steering wheel and overhead console.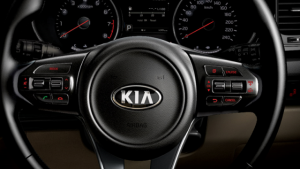 Other than that the new Grand Carnival also supports hill-start assist control (HAC), electronic stability control (ESC), high-performance damper (HPD), front and back parking sensors, blind spot detection, back view camera, fog lamps, rear spoiler, and shark fin antenna.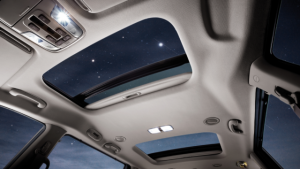 As far as the pricing goes, the Grand Carnival starts at Rs3,999,000 for the basic grade standard version and Rs4,799,000 for the high-end version.
Moreover, the Grand Carnival comes with 4 years or 100,000 km warranty.
KIA Lucky Motors recently inaugurated their first dealership in Karachi at main Shahra-e-Faisal near Baloch Colony Bridge and is expected to launch more dealerships in Lahore and Faisalabad soon.
It is important to mention here that the introduction of vehicles like the Suzuki APV and Honda BRV have catered to a market within Pakistan that was ignored for a long time. Moreover, import of MPV (multi-purpose vehicle) and SUV (sports utility vehicle) in Pakistan has grown over the past few years, making the Grand Carnival a prime chose for KIA to reenter the Pakistani market.
It was earlier reported that KIA-Lucky Motors, which is set to start production of KIA cars in Pakistan, will first import cars in 2018 most probably in April or May and commercialise it.
According to sources, familiar with the development, the manufacturing and assembling facilities will be functional in the year 2019. But the KIA-Lucky cars will be available for purchase to car buyers in Pakistan as KIA-Lucky will importing cars in 2018.
Meanwhile, an agreement was also signed between the Ministry of Industries and Production and KIA-Lucky Motors in Islamabad last year. The agreement was signed for production of light commercial and passenger vehicles under Automotive Development Policy 2016-2021.
According to the sources in the Ministry, the company will invest $115 million for setting up an automobile assembly plant in Karachi that will produce a wide range of commercial and passenger vehicles.
On Lucky Cement's website, it has been stated that KIA-Lucky will market and sell all types of KIA vehicles, parts and accessories in Pakistan.
The source added that KIA-Lucky will be marketing 1000CC, 1400CC and 2000CC cars and also one-ton trucks.
It means all three conventional local assemblers – Suzuki, Toyota and Honda, will see competition arising as early as next year from KIA cars, and a wider option for car buyers.
KIA Motors, a Korean auto giant, is a favourite brand in GCC, US and European markets. KIA website shows products range from low-cost hatchbacks to luxury sedans, from crossovers to SUVs, most of them with plug-in hybrid variants as well.
The new automobile policy is attractive for new automaker participants in Pakistan's growing car market. The news of new entrants Nissan-Renault, Hyundai and Chinese FAW along with KIA is encouraging for Pakistani consumers who so far, were forced to rely mostly on limited local assemblers. Imported used cars were also an option but the government has almost completely obstructed its imports recently.