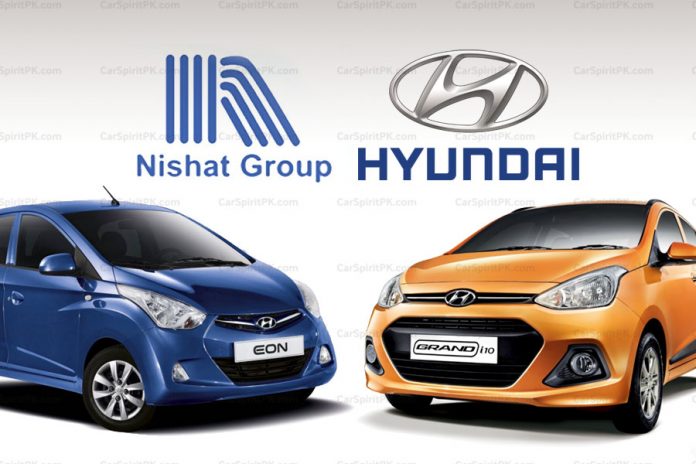 LAHORE: Japan's Sojitz Corporation will be investing $136.5 million for assembling Hyundai branded vehicles in Pakistan alongside its domestic partner Nishat Mills.
In a notification sent to the stock exchange on Wednesday, Nishat Mills Limited along with its consortium constituting of Nishat Group and Pakistan's largest tractor manufacturer Millat Tractors Limited (MTL) with Sojitz corporation would enter the assembly, wholesale and retail business for Korean Hyundai brand vehicles in Pakistan.
The notification said "HNMPL's total setup cost will be in the JPY 15 billion range. An assembly plant— scheduled for completion in December 2019—is currently under construction in a special economic zone in Faisalabad, Pakistan's third largest city.
"Sales will be carried out through distributor-owned dealers and franchise dealers, with the goal of reaching 6% market share by 2024," read the notification.
Pakistan's automotive market has demonstrated an annual growth rate of over 10%. The country's automotive market is forecast to expand further thanks to rising numbers of consumers.
In March last year, it was reported Nishat Mills had decided to enter into a shareholder agreement with Sojitz Corporation of Japan (Sojitz) for an acquisition of a 40pc stake in the company's wholly-owned subsidiary HNMPL.
Sojitz was stated to be in an equity sharing agreement with HNMPL via an investment of Rs 40m.
The agreement is subject to the grant of regulatory approvals. Moreover, HNMPL had announced conducting a feasibility analysis of setting up a greenfield project to establish an assembly and sales unit for passenger and 1-ton commercial vehicles in Pakistan.
Also, in 2017 Nishat Mills, a subsidiary of Nishat Group had announced venturing with the South Korean Hyundai to set up an assembly plant in the country.
The agreement was significant in the sense that it marked the return of Hyundai to Pakistan's automobile industry in addition to being a strong move to break the monopoly of Japanese companies dominating Pakistan's automobile industry by assembling cars in Pakistan in collaboration with local partners.
Nishat Mills shares were trading at Rs150.81, up Rs0.79 (+0.53 percent). KSE-100 index was trading at 44,215.51 points, up 71.31 points (+0.16 percent) in the first half hour on Thursday.