LAHORE: Netflix's share price has surged by 33,000 per cent since the company went public back in 2002 however recently the company's shares hit $153 billion and overtook Disney to claim the spot as world most valuable media company, currently valued at $152.8 billion
Earlier in May, the streaming giant Netflix temporarily became the world's most valuable media company after its stock market value topped rival Disney, however, in June according to a report published by Bloomberg Netflix gained an impressive lead over Disney and Comcast, who now stand at second and third position respectively.
Over the past year, Netflix's stock has increased 80 per cent — more than any other company in the S&P 500 — while Disney's shares are down 5 per cent.
The divergent fortunes of the world's two biggest media companies have come amid major changes in the entertainment industry as consumers opt more and more for online streaming services over traditional ways of watching films and television.
Article continues after this advertisement
Netflix currently has 125 million paying subscribers for its streaming service and has created an assembly line of original programming.
Disney, which owns Marvel, Pixar Animation and "Star Wars," has announced it will start its own streaming service and stop allowing Netflix to broadcast its own movies starting next year. According to a Bloomberg report Disney is valued at $147.9 billion currently.
It has been reported though that Disney is trying to expand by buying $52 billion worth of assets from Twenty-First Century Fox. But it faces the prospect of a bidding war with rival Comcast, which is preparing a rival bid for the assets.
Meanwhile, AT&T and Time Warner are waiting for approval to merge to create a company with a combined market value of $274 billion.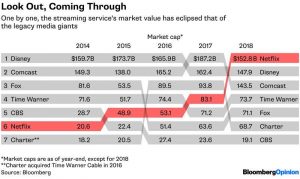 Enter Pakistan
In January 2016, Reed Hastings Co-founder and Chief Executive made the official announcement that Netflix would be launching its services in Pakistan and 129 other countries. It shared that users could start using services starting at $7.99 a month, with a free month offer.
Netflix, whose services were available in more than 60 countries before the announcement, had previously said it aimed to reach 200 countries by the end of 2016. However, all shows the company warned that not all shows would be available immediately.
"We are moving as quickly as we can to have global availability of all the content on Netflix," Hastings said at a press conference after the keynote address.
While analysts termed this bold move as ambitious saying, "(This is) much sooner and much more ambitious than expected," Netflix did not stop there.
In 2017 reports surfaced that Netflix was working on its first original Pakistani production. While talking to a section of the media, actor Zahid Ahmed said that he is already in talks with Netflix to play the lead in their first original Pakistani production.
Moreover, in 2016, Netflix had added Pakistani dramas to the list of shows they broadcast. These included dramas like Humsafar, Zindagi Gulzar Hai and Sadqay Tumharay and many Pakistani films were also added to the collection namely Waar, Moor, Janaan, Ho Mann Jahaan, Dukhtar and Wrong No.
TV producer Badar Ikram while talking to an English daily said "It is a great opportunity for Pakistani talent to reach worldwide audiences," while adding "As it is, our television serials are appreciated by Indian audiences. Now, this would help further our viewership as we can broadcast our content in multiple regions."
Netflix's launch in Pakistan has been welcomed by many as a large segment of the Pakistani audience that uses online streaming platforms has turned to Netflix, with PTCL providing exclusive deals for its customers. Moreover, film producers such as Fizza Ali Meerza, the producer of Na Maloom Afraad have been quoted saying, "Previously we had only two options. Either sell broadcast rights or upload the film on YouTube for free. But now we have another alternative."
Shamaz Ahmed, 28, an active user of Netflix's services, told Pakistan Today "Times have changed. No one has the time to sit and wait around for their favourite TV drama to be aired; nowadays people want ease of access, when and wherever they want. And Netflix provides just that."
It is pertinent to mention that according to a Global Digital report prepared by We Are Social and Hootsuite, Pakistan's internet penetration stood at 22 per cent (44.6 million users) of the population.
Sifting through the report reveals some interesting revelations, as the country's active social media users stood at 35 million with a penetration of 18 per cent at end of January 2018. The unique mobile users in the same period were recorded at 109.5 million, with a penetration of 55 per cent.