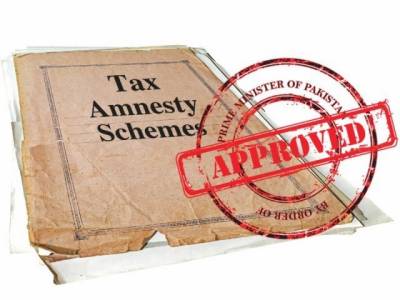 KARACHI: Contrary to claims of the Federal Board of Revenue (FBR), sources disclosed not more than $700 million is likely to be recovered under the tax amnesty scheme which expires on June 30th.
Sources revealed the tax regulator has fetched $46 million tax against the declaration of overseas assets under tax amnesty scheme till June 23rd, reported Business Recorder.
Last week, the FBR spokesman in a press conference Dr Muhammad Iqbal said taking into consideration asset declaration trends and assessment from tax experts and chartered accountants, money retrieved under the tax amnesty scheme could range between $3-4 billion.
According to sources, before the approval of the tax amnesty scheme by the apex court only one to two return declarations were being received daily, but that had now risen to over forty declarations on average daily.
Furthermore, the sources shared it was premature to give any statement about the governments US dollars denominated amnesty bonds 2018 launched on June 23rd.
They added the tax amnesty scheme should be extended to July 20th via a presidential ordinance, which would allow a maximum number of people to take advantage of this scheme.
On Friday, Mr Iqbal issuing a warning saying those individuals who do not avail the benefits of this scheme should be ready to face dire ramifications and action in this regard.
While answering a question, he explicated crime proceeds couldn't be legalized under the prevailing tax amnesty scheme, which was presently available to all Pakistani nationals except for public-office holders.
The FBR spokesman shared the response to the tax amnesty scheme had been overwhelming but said the last date of June 30th for declaring assets would not be extended.
He expressed optimism the scheme would bring various benefits, critically the inflow of foreign assets into Pakistan,
Mr Iqbal said if the scheme became successful, the balance of payments problem could be resolved and besides the tax regulator would collect tax on the declaration of assets held overseas.