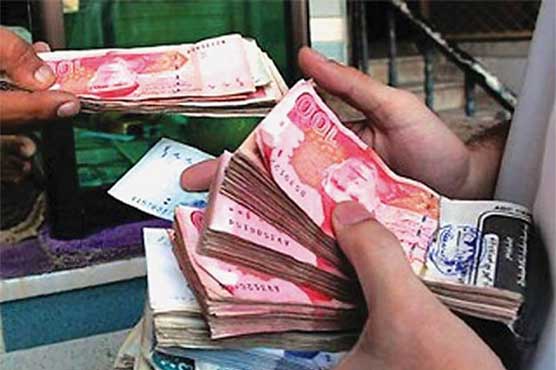 LAHORE: The rupee plunged to a record low of Rs128 against the dollar in the inter-bank market on Monday, as burgeoning trade and current account deficit alongside deteriorating foreign currency reserves continue casting a shadow over the economy.
The rupee started intra-day trading Monday at Rs121.55, shooting up to Rs127.5 before peaking to a high of Rs128 in the inter-bank market against the greenback before settling down at Rs128.
It closed at Rs129 in the kerb market against the dollar and depreciated 5.3 percent in the inter-bank market on Monday.
On a cumulative basis, the rupee has depreciated by around 14 percent this year and foreign exchange reserves touched their lowest ebb in the last three and a half years.
According to a press release issued by SBP said "the PKR-US$ exchange rate in the interbank market closed at PKR 128.0 per US$ against the closing level of PKR 121.55 per US$ of the previous day.
This movement in the exchange rates reflects the demand-supply gap of the foreign exchange in the interbank market."
It added, "SBP is of the view that this adjustment in the exchange rate along with the increased policy rate and other administrative measures, would help contain domestic demand in general, and reduce the imbalances in the country's external accounts in particular."
It finally settled at 127.9993, according to SBP's revaluation market to market revaluation exchange rates on their website.
The rupee had closed at Rs121.55 against the greenback in the inter-bank market on Friday.
While talking to Profit, Mattias Martinsson Chief Information Officer (CIO) Tundra Fonder said "We think the currency is already within fair value. That is not the problem right now. We now wait for elections which will hopefully result in a clear outcome and then an IMF deal. That is probably the starting point for a better market."
On Saturday, the central bank had raised key interest rates by 100 basis points to 7.5 percent, the highest since 2008.
It revised the growth forecast downward to 5.5 percent for FY19 compared to the annual target of 6.2 percent, citing on-going monetary tightening and some sector specific issues.
Last month, the State Bank of Pakistan (SBP) had devalued the rupee by 4 percent against the dollar following the 10 percent depreciation in December 2017 and March this year.
In a visit to the Pakistan Stock Exchange (PSX) on Saturday, Caretaker Finance Minister Dr Shamshad Akhtar said "interim government is taking steps within its limited mandate to push for stability, however, it has no intention to seek IMF financial assistance for the country.
"Two key priorities, critical for long-term stability and development for Pakistan ought to be domestic resource mobilization and a strong export diversification drive which will help resolve country's domestic and external vulnerabilities in most effective manner," said Dr Shamshad.
While speaking to Profit, Saad Hashemy Director Research Topline Securities said "This devaluation is a positive signal on the economic front to investors that the much-required steps are being taken to address the burgeoning external account.
To note, Pakistan's external account continues to deteriorate with the external current account deficit (CAD) down during FY18 by higher than expectations."
"CAD is now expected to increase to a whopping US$18.0bn (5.8% of GDP) in FY18 compared to US$12.6bn (4.1% of GDP) previous year. This is not sustainable given the current low level of reserves of US$9.5bn (less than 2 months imports) as of July 6, 2018, we believe. We currently expect Pak rupee to further devalue to Rs131 by Jun'19," said Saad.
Saad added, "A weaker Pak rupee will be largely positive for listed sectors including oil & gas exploration, power (IPP's), textiles and information technology (IT) due to dollar-denominated revenues."
"On the other hand, auto assemblers, cement and steel could be negatively affected as it could lead to lower margins for autos (devaluation may not be fully passed on) and cement (higher imported coal prices). Steel sector's demand could be negatively impacted due to higher steel product prices. Furthermore, we do not expect any major impact on insurance and fertilizer sectors.
RD duty is currently a proposal only and will likely be considered by the next government, we believe," said Saad.
In a comment to Reuters via text message, the State Bank of Pakistan (SBP) spokesman Abid Qamar said: "Market forces are driving the exchange rate."
Pakistan's current account deficit ballooned to $16 billion during the first 11 months (July-May) of the just concluded FY18.
During FY18, rupee had been devalued three times against the dollar to prop up exports and rein in decline of foreign exchange reserves.
In a comment to Profit, Adnan Sheikh Pak Kuwait Investment Co AVP Research said, "Rupee depreciation is a necessary measure to curb imports, reduce consumption in the attempt to limit the outflow of dollars from Pakistan as reserves have been dwindling.
"Ramifications on the economy would be higher prices mainly of petrol, vehicles and steel items (of which imports make the major component), increase in prices will have an inflationary impact across all sectors and will also limit consumption.
On the capital markets, sectors whose operations are dollar-linked or can substitute imports will benefit from depreciation, while those whose proportion of dollar-based costs outweigh revenues will see their profits contracts," said Adnan.
He added "Financial sector is expected to benefit from interest rate hikes as lending spreads would increase, however, there is a risk of higher defaults and contraction in credit as rates rise sharply.
Conversely, highly leveraged companies will see their financial charges rise and eat away from profits. Those companies that relatively debt free (or whose cash and short-term investments are significant) will be better off."
The government had devalued the rupee by around 5 percent on Dec 8th, 2017 to Rs110 and then again by around 4.5 percent to Rs115 on Mar 20, 2018.
While speaking to Profit, former economic advisor and CEO Macroeconomic Insights Sakib Sherani said "The rupee is reacting to the fact that Pakistan has a net external financing requirement of $12-13 billion. The depreciation is not a policy devaluation per se but a market adjustment to an excess demand for dollars in the inter-bank market via imports etc."
He added "The currency will stabilize when either imports are compressed significantly, or the country receives a large dollop of fresh new money from external sources."
In the last decade, the rupee has devalued annually by around 5 percent.
Previously, credit rating agency Moody's in May projected the rupee could plunge by 7.75 percent and touch Rs125 to the dollar by June 2019.
Last week, Pakistan's imports for FY18 skyrocketed to $61 billion, rising 15.10 percent against  $52.910 billion in the same period of FY17, according to the central bank data.
The country's exports slightly enhanced by 14 per cent in the last fiscal year to $23.228 billion compared to $20.422 billion in the same period last year.
Exports increased as per market expectations, but the imports are still out of control despite all measures taken by the government.
The trade deficit of the country stood at $37.670 billion in FY18 compared to $32.488 billion in the same period of FY17.
Data released by SBP in May revealed Pakistan's external debt and liabilities had risen over 50 percent or around $31 billion in nearly five years of the previous government's tenure.
Adding insult to injury, Pakistan's external debt and liabilities skyrocketed to a record high of $91.8 billion till the end of March and this figure for external debt and liabilities is 50.6 percent higher or increased by $30.9 billion compared to June 2013 when the PML-N came into power.
From the total external debt and liabilities, government's public debt including foreign exchange liabilities stood at $76.1 billion by end of March 2018.
In mid-April, former finance minister Dr Miftah Ismail in an interview to Bloomberg TV said rupee had attained its "optimal value" and wouldn't require further devaluation.