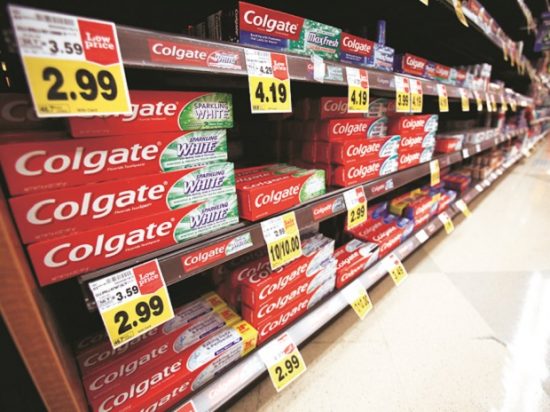 NEW YORK: Colgate-Palmolive Co said on Friday that it would "modestly" raise prices in the second-half of the year, mainly in emerging markets, as the world's largest toothpaste maker seeks relief from surging raw materials costs.
Big packaged goods companies have been struggling to grow sales amid fierce pricing competition between retailers and as shoppers turn increasingly to fresher brands. The industry also has been rocked this year by rising commodities and transportation prices.
Shares in Colgate were flat on Friday, reversing course from a 3 percent decline after the company reported weaker-than-expected quarterly sales and warned that it expected slower full-year net sales growth.
Colgate, which makes Speed Stick deodorants and Softsoap hand-wash, said raw material inflation had hurt second-quarter gross margins by 320 basis points.
"Rising commodity costs and volatile exchange rates put pressure on our P&L, and we have sometimes questioned if we're responding with an appropriate sense of urgency," Chief Executive Ian Cook said on a call to discuss earnings.
Cook said Colgate had started raising prices around the world and expects to see a modest improvement in second-half pricing.
"We may not see competitors follow immediately, and we intend to remain rational, but we also understand the need to protect our market shares," he said.
Cook's concerns echo those made this week by Kleenex-maker Kimberly-Clark, which flagged higher commodities costs, and said it had raised prices and expected to continue to do so for the rest of the year.
Procter & Gamble Co, the world's second-largest consumer goods company and the maker of Oral-B dental products, is expected by analysts to report a rise in quarterly sales and earnings next week.
Colgate's second-quarter sales rose 1.6 percent but missed estimates, hurt by a trucker strike in Brazil and weakness in Latin American currencies amid political uncertainty and a strong U.S. dollar.
Sales in Latin America, which account for nearly a quarter of Colgate's total revenue, fell 7 percent to $933 million in the second-quarter. Colgate said it would have moved more products had it not been for the strike, which emptied roads and left major cities running short on food, gasoline and other basic commodities.
Net income attributable to Colgate rose to $637 million, or 73 cents per share, in the second quarter ended June 30. Including one-time items, the company earned 77 cents per share, in line with analysts' estimates.