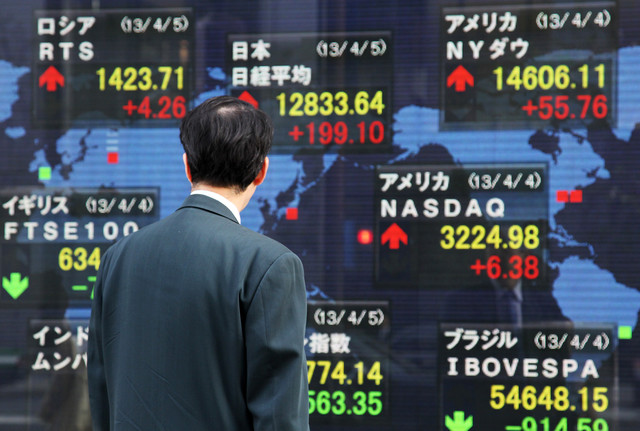 SINGAPORE: Asian markets fell Monday after a steep decline in the U.S. technology sector weighed on Wall Street at the end of the week despite data showing the economy was growing.
KEEPING SCORE: Japan's Nikkei 225 index dropped 0.8 percent to 22,536.81 and South Korea's Kospi edged 0.2 percent lower to 2,291.09. The Shanghai Composite index slipped 0.5 percent to 2,859.99 and Hong Kong's Hang Seng index lost 0.8 percent to 28,560.95. Australia's S&P ASX 200 gave up 0.4 percent to 6,273.20. Shares gained in Indonesia but were lower in Taiwan and Singapore.
WALL STREET: Technology stocks led a slide in U.S. stocks on Friday, adding to the market's losses from another tech-driven sell-off a day earlier. The S&P 500 index slid 0.7 percent to 2,818.82. The Dow Jones Industrial Average dropped 0.3 percent to 25,451.06. The Nasdaq composite index, which is heavily weighted with technology companies, tumbled 1.5 percent to 7,737.42. The Russell 2000 index of smaller-company stocks dipped 1.9 percent to 1,663.34.
TECH STOCK LOSSES: On Friday, Twitter announced that its monthly users declined in the second quarter, causing its stocks to plummet 20.5 percent to $34.12. It was the company's second-biggest loss since going public in 2013. Snap, the company behind the Snapchat messaging app, slid 4 percent to $12.83. Facebook shares gave up 0.8 percent to $174.89 a day after the social media giant led a slide in technology stocks that snapped the S&P 500′s three-day winning streak. Amazon.com bucked the trend, adding 0.5 percent to $1,817.27 after the online retailer reported its biggest profit ever as its advertising and cloud computing businesses kept growing.
ENERGY: Benchmark U.S. crude rose 24 cents to $68.93 per barrel in electronic trading on the New York Mercantile Exchange. It lost 92 cents to settle at $68.69 per barrel on Friday. Brent crude, used to price international oils, added 11 cents to $74.87.
CURRENCIES: The dollar increased to 111.04 yen from 111.00 yen on Friday. The euro rose to $1.1661 from $1.1656.