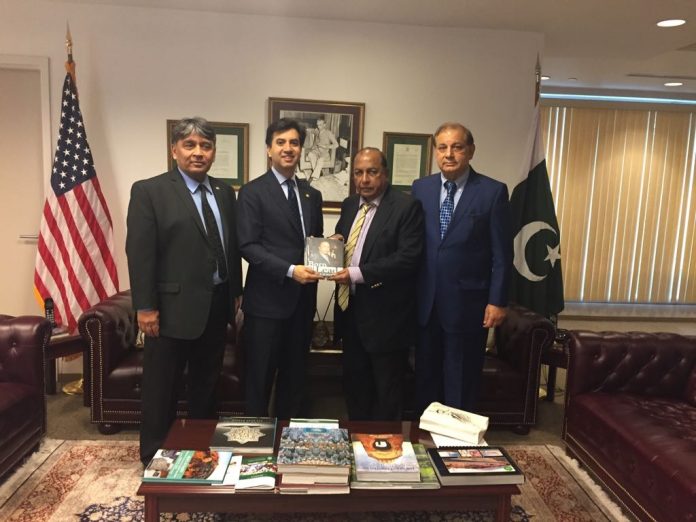 KARACHI: More companies from the United States (US) will soon come to Pakistan with various steps being taken to boost bilateral trade between the two countries, said Pakistan's Ambassador to the US, Ali Jehangir Siddiqui.
He was talking to a delegation of the Federation of Pakistan Chambers of Commerce and Industry (FPCCI) at Pakistan's Embassy in Washington. Trade Development of Pakistan's former Chief Executive Officer (CEO) and FPCCI United Business Group's Chairman S M Muneer led the delegation, which also included UBG Canada Chapter Chairman Navaid Bukhari and Noor Ahmed Khan.
Pakistan's Ambassador said that he had found positivity in American people's attitude towards Pakistan and that his meeting with the US President Donald Trump and his desire for better economic, political and diplomatic relations between the US and Pakistan should further improve, said an FPCCI press release here on Wednesday.
The US Government had already announced to maintain very good working relations with the new government in Pakistan, he re-affirmed. He said efforts were being made to get the duties reduced on the goods exported from Pakistan.
"On this issue, Pakistan's mission in Washington was busy in dialogues with the concerned US authorities," he said adding that America was a big importer of Pakistani products which is why every possible step was being taken to get an easy access for Pakistani goods in the US markets and to increase bilateral trade.
He suggested that a large FPCCI delegation, comprising of leading exporters and importers should visit the US to find buyers and sellers.
"I shall also try to motivate American businesspersons to visit Pakistan for the same," he added.
The leader of the delegation S M Muneer congratulated Ali Jehangir Siddiqui on his appointment as the Ambassador in Washington and expressed confidence that Siddiqui would prove to be a very successful diplomat who would specifically strengthen US-Pakistan economic relations.