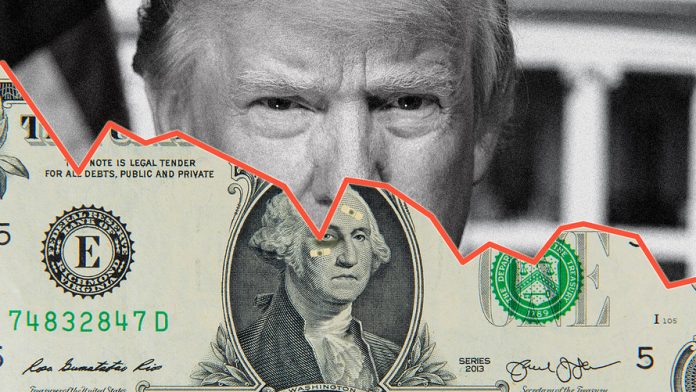 TOKYO: The dollar firmed against a basket of currencies on Friday and hit a more than 14-month high against the yuan, with markets gripped by worries over escalating trade tensions between the United States and China.
China vowed on Thursday to retaliate if the U.S. acted on a threat to raise tariffs on the Asian nation's exports, after U.S. President Donald Trump instructed his trade officials to look at increasing tariffs to 25 percent from 10 percent on $200 billion in Chinese imports into the United States.
But, as the United States imports far more from China, than China does from the United States, investors see a trade war causing greater pain for the Chinese economy.
China's offshore yuan, which has been under pressure for months due to worries over the trade rift, weakened to 6.8975 per dollar, its lowest since May 15, 2017, before steadying slightly to last trade at 6.8888.
China's onshore yuan briefly slipped to 6.8767 per dollar, its lowest since May 25, 2017. It last traded at 6.8681 yuan per dollar.
The dollar index, which measures the greenback against a basket of six other currencies, hit a fresh two-week high of 95.211. It changed hands at 95.139 at 0421 GMT.
The euro traded near a two-week low at $1.1591.
The dollar was nearly flat against the yen, trading at 111.70 yen. The U.S. and Japan are expected to hold their first bilateral trade talks in Washington on Aug. 9.
The Australian dollar, seen as a proxy for Chinese growth because of Australia's export-reliant economy, was under pressure as the Sino-U.S. trade tensions overwhelmed upbeat retail sales data at home.
The Aussie traded at $0.7370, a touch above a two-week low of $0.7355 touched the previous day.
Elsewhere, the pound remained frail even after the Bank of England on Thursday raised its policy interest rate from 0.5 to 0.75 percent following an unanimous decision of its nine-member policy board.
Sterling on Friday traded at $1.3020, coming off slightly from a two-week low of $1.3006 hit earlier in the day.
It had slumped as much as 0.8 percent on Thursday in the aftermath of the BOE's decision to lift interest rates.
Bank of England Governor Mark Carney said monetary policy needed to "walk not run" while expressing worries about the risks of a cliff-edged Brexit.