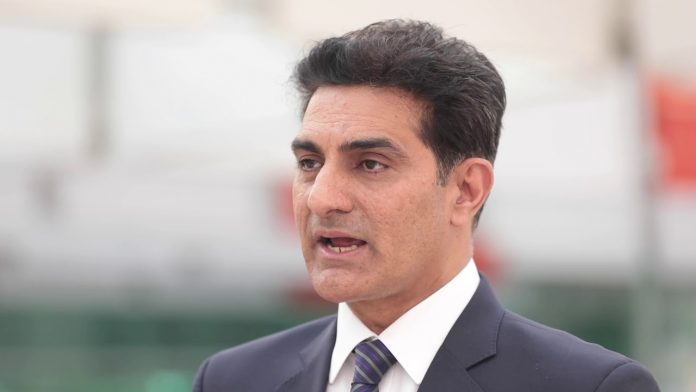 –Sources say that the 'bone of contention' between CEO and unions was control over transfer, postings
ISLAMABAD: Pakistan International Airlines (PIA) Chief Executive Officer (CEO) Musharraf Rasool Cyan is in the eye of multiple storms on different fronts. From PIA Union taking Cyan, to the Supreme Court (SC) raising questions on his appointment, from Chief Justice Saqib Nisar asking him to pay for 43 guests who enjoyed PIA's new initiative Air Safari on its maiden, promotional flight, to national Accountancy Bureau (NAB) being tasked to look into his appointment, salary and perks.
Musharraf Rasool Cyan boasts of an amazing career, both in and outside Pakistan. He started off as a bureaucrat belonging to the esteemed DMG services, then working all over the world in advising public sector governance, an academician and finally as PIA CEO, Cyan stayed away from controversies for most of his life. Even in the writ petition filed against him in the court, his appointment was questioned with no mention of personal corruption or monetary benefit accruing to him.
Sources privy to the recent developments in PIA confided in Pakistan Today that the main contention between CEO and the unions was control over postings and transfers.  "The transfer, postings of air and ground crew of late has become an outlet to mint money."
On assuming charge as CEO and denying the unions has made them attack PIA high-ups in courts. Interestingly, despite various attempts, not the slightest proof of personal pecuniary benefit was found against Cyan. Also, during 11 months of his tenure, Cyan took three trips in all where he stayed for two days in Saudi Arabia, one day in Dubai and one day in Singapore. Being the CEO, he gets eight tickets per annum‌ for his family
In a perennial nosedive, Cyan can rightly claim that under his skippership, PIA flight punctuality increased, technology was integrated, a new brand strategy was opted, customer experience was enhanced, fleet was modernised and plans were afoot to expand them from 32 to 44 and expansion of network to include new destinations. However, what proved to be a final nail in the coffin was the Strategic Business Plan submitted by Cyan that disavowed privatisation and addressed the systemic weaknesses in PIAC by plotting a path to recovery through the implementation of initiatives focused on the long-term.
What transpired in the shadows and uttered in the whispers was now out in the open. The of the new CEO collided with the old guard of deeply-entrenched unions who submitted an application with the Supreme Court and converted it into writ. The main allegations revolve around no prior experience in aviation; such as that Cyan is an MBBS Doctor and did his PhD in Economics from Georgia State University.
It is also pertinent to mention here that four advertisements issued for CEO from 2013 till 2017, the experience in aviation was 'preferred' not 'required' and in 2016, where it was required, no candidate made it to the final selection.
Several insiders claim that the sudden onslaught against him had its roots in Cyan discarding the option of privatising PIA, terming it a bad idea keeping in view the current state of affairs. Musharraf Rasool, on the other hand, chalked out a plan for the revival and expansion of the airline by flying to strategic locations and acquiring new aircraft and is all set to present the plan to the new government.
Dr Musharraf Rasool Cyan holds a PhD in Economics from Georgia State University and MSc in Development Management from University College London. He stood first in the nationwide competitive exam for civil service in 1990 and won gold medals for his performance in the Civil Service Academy. His doctoral studies in Economics focused on pricing, consumer behaviour, taxation, investment in public assets, quantitative methods and analytical tools for efficiency and effectiveness.
When contacted by Pakistan Today for comments, Musharraf Rasool said that he won't as the matter was sub-judice.