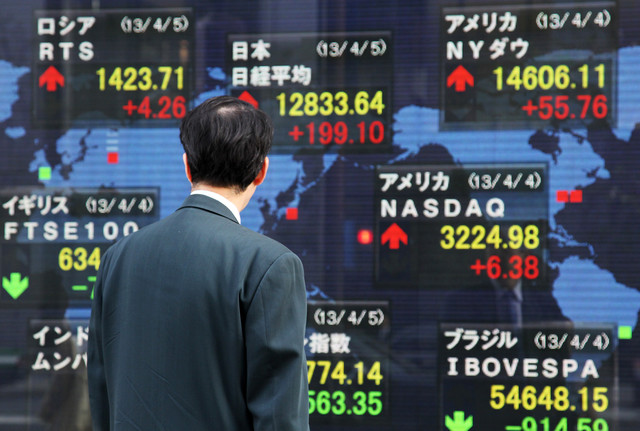 TOKYO: Asian shares fell Thursday after deepening worries about global economic growth, particularly in China, set off a rout on Wall Street.
KEEPING SCORE: Japan's Nikkei 225 index fell 0.2 percent to 22,158.75 and the Hang Seng in Hong Kong lost 0.6 percent to 27,155.66. The Shanghai Composite index sank 0.9 percent to 2,699.60. South Korea's Kospi reopened from a holiday and tumbled 1.0 percent to 2,236.89. Australia's S&P ASX 200 edged 0.1 percent lower to 6,323.20. Shares fell in Taiwan and Southeast Asia.
WALL STREET'S SLIDE: Large technology companies such as Alibaba and Baidu of China and U.S. tech giants including Facebook and Microsoft fell. The S&P 500 declined 0.8 percent to 2,818.37. Earlier it lost as much as 1.3 percent. The Dow Jones Industrial Average shed 0.5 percent to 25,162.41. The Nasdaq composite dropped 1.2 percent to 7,774.12. The Russell 2000 index of smaller-company stocks sank 1.3 percent to 1,670.67.
CHINA FACTOR: Earlier this week, reports on growth in factory output, consumer spending and retail sales in China were all slower than expected. But there was encouraging news in Beijing's announcement that it is sending a sending a trade envoy to Washington, renewing efforts to resolve a worsening tariff dispute.
COPPER SINKS: Copper tumbled 4.5 percent to $2.56 a pound, its lowest price in more than a year. Copper is considered an important economic indicator because of its uses in construction and power generation, and copper futures have fallen more than 20 percent since they hit an annual high of $3.30 a pound in early June.
TURKEY'S TROUBLES: Turkey's currency stabilized and rose after authorities sought to ease liquidity problems in the banking system. But Turkey imposed $500 million in tariffs on U.S. goods as tensions between the countries increased. There is also no sign that Turkey's president will let the central bank raise interest rates, which economists say it should do urgently to support the currency. The Turkish ISE National 100 index slumped 3.4 after a gain of 0.8 percent Tuesday. Indexes in other emerging markets including Brazil and Russia skidded as well.
ENERGY: U.S. crude stabilized, adding 6 cents to $65.07 per barrel in electronic trading on the New York Mercantile Exchange. It sagged 3 percent to $65.01 a barrel in New York. Brent crude, the standard for international oil prices, picked up 28 cents to $71.04 per barrel. It had lost 2.3 percent to $70.76 a barrel in London.
CURRENCIES: The dollar rose to 110.77 yen from 110.72 yen. The euro rose to $1.1386 from $1.1346.