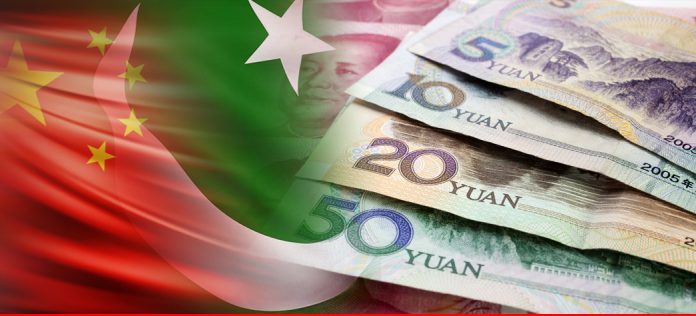 ISLAMABAD: To rein in Pakistan's rising trade deficit, China is said to have offered Islamabad the option of commencing trading in Renminbi (Yuan) in which regard meeting has been held with the State Bank of Pakistan (SBP).
According to sources privy of the development, the recommendation was put forth by the Chinese Ambassador to Pakistan Yao Jing in a meeting with ex-interim Minister for Commerce, Mian Misbah-ur-Rehman, reports Business Recorder.
In the meeting, several issues of economic cooperation and bilateral between the two countries were brought forth.
Also, China is mulling announcing unilateral trade concessions to Pakistan which will increase its exports to Beijing and hence decrease trade deficit.
The China-Pakistan free trade agreement (CPFTA) part 1 favoured China since their exports to Pakistan were valued over $15 billion compared to Pakistan's exports of a meagre $1.5 billion in FY18.
And the last round of CPFTA talks held in Islamabad were unsuccessful as both countries were unable to reach an agreement on the second phase.
Also, a high-level meeting presided under the chairman of ex-prime minister Shahid Khaqan Abbasi had taken the decision of not finalizing CPFTA part 2 till the industry was taken aboard.
Furthermore, sources quoting the Chinese ambassador said Beijing was contemplating to invite new Prime Minister Imran Khan as a guest of honour for China Import Fair set to be held in November 2018.
To ensure this visit more purposeful, the Chinese ambassador stated a team led by the Commerce Minister or the Secretary Commerce could visit China before the visit of new PM to find out areas of cooperation and firm up the aim of his visit.
In reply to the interim commerce minister's worry on granting concessions to India and Bangladesh, the ambassador said those had been proclaimed under the framework of Asia-Pacific Trade Agreement (Bangkok Agreement).
The Chinese ambassador added China-Pakistan Economic Corridor (CPEC) was aimed more on energy and infrastructure linked projects, but Beijing recognized new areas of cooperation and support to Pakistan's government via trade promotion, foreign direct investment (FDI) and social sector support.
For this, a delegation of Chinese Customs and Quarantine department would come to Pakistan shortly to address concerns over market access and quarantine issue which were impeding trade between both countries.
While talking about FDI, Mr Jing stated Beijing would begin measures to enhance joint venture and investment in special economic zones (SEZs). He advised Shanghai Import Fair would provide a good chance for Pakistan to exhibit its investment potential.
On the topic of social sector cooperation, Mr Jing said regional governments of Xinjiang province and Gilgit-Baltistan (GB) were working in tandem to enhance infrastructure facilities at border posts to resolve customs and quarantine related problems.