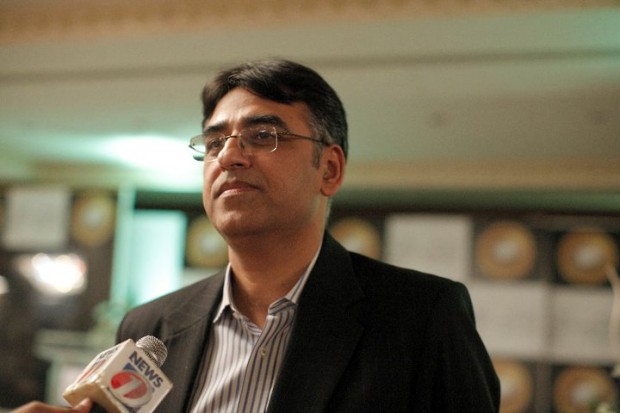 KARACHI: The newly appointed finance minister Asad Umar has said the government's decision to retrieve money earned from corruption and deposited overseas wasn't central to the party's plan for macroeconomic stabilization.
Mr Umar, who was sworn in as Finance Minister earlier this week while talking to Dawn said the new PTI government would chart an economic direction by end of next month.
He added the money retrieved/recovered from overseas would be helpful, however it won't depend on it to shore up the economy.
The finance minister indicated this policy was to disincentivize those people who sought to earn money from illicit practices and launder it overseas.
He warned the country's economy was steering towards massive imbalances. Mr Umar stated the budget presented by the previous PML-N government "is not worth the paper it is written on."
According to the finance minister, the budget presented by the previous government would result in a fiscal deficit of seven percent if the new government follows it.
A query regarding had growing macroeconomic balances been discussed in the first cabinet meeting, Mr Umar said no but it had been deliberated upon with the prime minister Imran Khan.
The finance minister said, "He mentioned it in his speech, and this is clearly the central crisis that needs to be dealt with."
He clearly stated the onus of developing a future course of strategy regarding growing economic balances lied with him and the "ball is in my court".
Mr Umar stated it will require time to take detailed stock of the situation, on which he is working upon.
The finance minister, when enquired about what he is working on, told Dawn "Right after the cabinet meeting, I went to the finance ministry where we reviewed the situation. The next morning at 9:30, a more detailed assessment of the numbers was taken and "we were able to get into the nuts and bolts of it, play with the financial variables."
Also, the finance minister said before finalizing any decision by end of next month, he would approach the parliament first.
He expressed that he wanted to go to parliament and a debate should happen on any direction the government adopted for the economy.
Mr Umar stressed the real picture must be put forth before the parliament, especially regarding the numbers in the budget which would require to be reworked.
He said every parliamentarian would be invited to take part in the debate since his government believes such decisions should be taken by consensus.
This would provide the parliamentarians with an opportunity to "come up with their own ideas about what best to do."