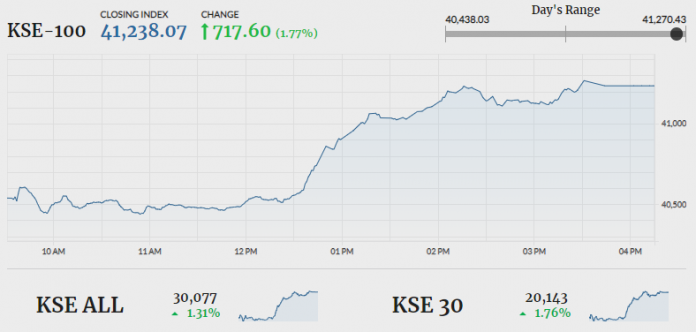 KARACHI: The months' long wait was finally over for investors at the Pakistan Stock Exchange (PSX). With the announcement of the amended Finance Bill for 2018 came the much-needed certainty over the economic policies of the new government.
"Investors were quick to respond as chemicals, foods and cements became part of the rally following the finance minister's speech," said Capital Stake Director Research Maha Jafer Butt, predicting no negative impact on any sector in the near future.
The KSE 100 index added 749.96 points to touch intraday high of 41,270.43. It settled with an appreciation of 717.60 points at 41,237.07. The KMI 30 index was up by 2.20 per cent and ended at 70,217.70, while the KSE All Share index appreciated by 389.68 points to end the day at 30,076.64 respectively.
The market volume surged up by 15 per cent from the previous session and was recorded at 166.52 million. Lotte Chemical Pakistan Limited (LOTCHEM +3.45%) led the volume chart exchanging 13.24 million shares, followed by Unity Foods Limited (UNITY +4.98%) with 10.44 million shares.
Maple Leaf Cement Factory Limited (MLCF +4.98%) was next in line exchanging 9.46 million shares after the company announced its financial results for FY18. The company declared a final cash dividend of Rs 1.00 per share in addition to interim cash dividend of Rs 1.50 per share. Sales appreciated by 7 per cent year-on-year (YoY) while earning per share declined from Rs 8.81 in the previous year to Rs 6.29 in the current year (a fall of 29 per cent YoY). The cost of sales was up by 25 per cent YoY with surge in coal prices, whereas gross profits deteriorated by 21 per cent YoY.
Nimir Resins Limited (NRSL +2.47%) also declared its financial performance for FY18. Sales were up by 34 per cent from the preceding year whereas the earning per share improved by 38 per cent YoY (FY17 Rs 0.26, FY18 Rs 0.36).
Biafo Industries Limited (BIFO -0.26%) released its financial results for the year ending June 30, 2018. A final cash dividend of Rs 5.00 per share and 20 per cent bonus shares were issued by the company in addition to interim cash dividend of Rs 16.00 per share. An increase of 40 per cent YoY was recorded in the sales while the earning per share appreciated by 66 per cent YoY.
Commenting on the government's finance bill, Pak Kuwait Investment Research AVP Adnan Sheikh said, "The target of Public Sector Development Programme (PSDP) at Rs725 billion as compared to Rs661 billion achieved in FY18 served as a positive trigger for the market."
He viewed the decision to allow non-filers to purchase immovable property and motor vehicles a positive one that would further push the market up.