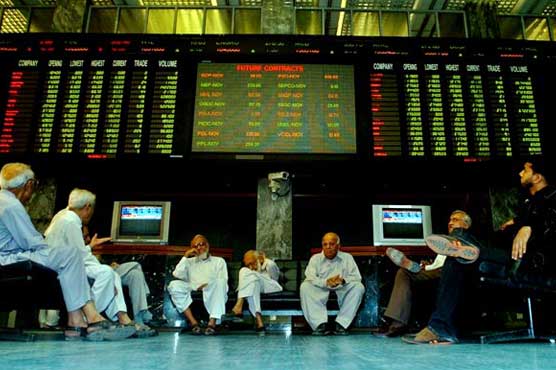 LAHORE: Amid lack of clarity on economic issues by the new government, investors continued their wait and see approach. The KSE 100 share index touched an intraday high of 40,972.79 minutes after the session began. The index then sunk to intraday low of 40,383.23 in the afternoon trading session after losing 526.68 points.
It then made a recovery to settle lower by 58.11 points at 40,851.80. The KMI 30 index declined by 313.51 points to end at 69,173.31 whereas, the KSE All Share index depreciated by 13.53 points to settle at 29,770.82.
Trading volumes improved from the previous session and were recorded at 149.35 million (an increase of 18 per cent). Dolmen City REIT (DCR -0.86 per cent) and Unity Foods Limited (UNITY -4.51 per cent) continued to lead volume chart for a second consecutive session with 22.07 million shares and 12.44 million shares exchanged. Followed by TRG Pakistan Limited (TRG +3.32 per cent) with 12.13 million shares traded.
Pioneer Cement Limited (PIOC +4.86 per cent) declared its financial results for FY18. The company announced a final cash dividend of Rs 4.07 per share. Sales declined by 4.8 per cent YoY while earning per share was down from Rs 12.84 in the previous year to Rs 7.24 in the current year. Distribution cost was up by 77  per cent YoY while the finance cost appreciated by nearly 174 per cent from the previous year.
Elahi Cotton Mills Limited (ELCM +3.02 per cent) released its financial performance for FY18. Sales surged up 23 per cent YoY. The earning per share improved from Rs -3.34 in the preceding year to Rs 3.03 in the current year. Financial charges declined from Rs 5676 in last year to Rs 1993 in the current year.
According to the announcement made by the management of Clover Pakistan Limited (CLOV +0.69 per cent) the company has been granted a license by the Oil and Regulatory Authority (OGRA) for the operation of Lubricant Marketing company. As per the management the company expects an increase in profitability by sale of lubricant products in the forthcoming financial year.