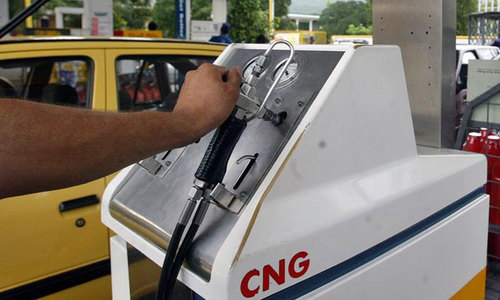 — APCNGA chief says downtrodden segments are struggling the most due to hike, as CNG is a consumed mostly by the poor
ISLAMABAD: The All Pakistan CNG Association (APCNGA) on Friday rejected the recent hike in the price of natural gas, terming it "highly damaging for masses as well as the CNG industry."
The decision to increase the tariff of gas by 40 per cent will take a toll on the masses and destroy the already struggling CNG industry, said APCNGA central leader Ghiyas Paracha. "The closure of CNG industry would lay waste to the Rs450 billion investment besides leaving many jobless," he added.
He said the government had turned down the proposal to increase the price of petrol to provide relief to masses, therefore, it should reverse the decision to increase gas tariff for CNG industry in order to shield the poor.
Paracha said that the closure of the CNG industry would increase the oil import bill which would further damage the country's forex reserves.
He criticized the government for claiming that the poor were insulated from the gas price hike. "People from the downtrodden segments of society are struggling badly now, as CNG is consumed mostly by the poor," he added.
He lamented the government increased the price of gas for CNG sector without taking the association on board, adding that the government didn't even give any clear strategy with regard to recovery from the customers.
The leader of the CNG sector said that the upward revision in the gas price, additional taxes and hike in electricity rates has reduced the difference between the price of CNG and petrol, which will eventually bring the CNG businesses to a close.
He urged the government to protect the CNG sector "otherwise the cost of public transport and transportation of goods will jump" and masses would be compelled to switch to petrol.