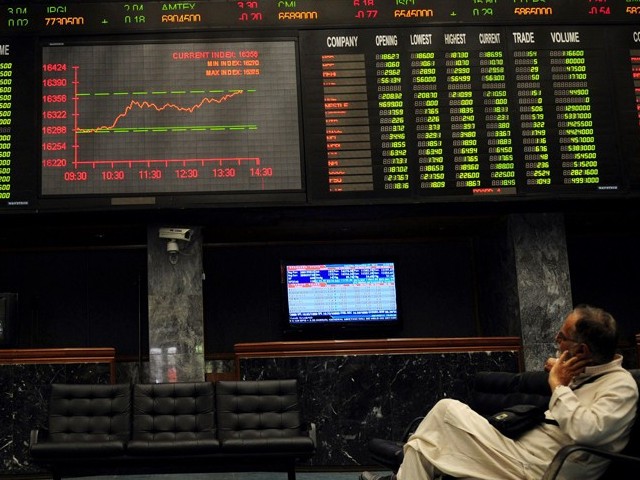 'Index falls by 9pc in two weeks, the worst performance in three-and-a-half years'
KARACHI: The Pakistan Stock Exchange (PSX) came under heavy selling pressure for the second consecutive week, where the market reached its 27-month-low, wiped the index by another 4 per cent, and lost Rs361 billion in the shape of market capitalization.
According to Topline Securities CEO Mohammed Sohail, the 4 per cent fall in the market during the preceding week took the two-week losses to 9 per cent, the worst two-week performance in three-and-a-half years.
"The investor sentiment was shaken by reports that certain stocks are under risk of exclusion from the MSCI's Emerging Market Index. This was in addition to the already uncertain economic outlook of the country," he said. "Among Pakistan stocks in the MSCI Emerging Market Index, Lucky and Habib Bank fell the most, declining by 11 per cent and 8 per cent respectively, and cumulatively eating away 316 points from the index. Resultantly, commercial banks and cements were the worst performing sectors during the week, cumulatively chipping away 595 points from the index," he explained.
He informed that the foreigners sold $32.6 million (largest selling after eight weeks) worth of shares during the week versus net selling of $8.4 million last week. On the local front, companies, insurance and banks were net buyers amounting to $22.8 million, $6.5 million, and $6.3 million, respectively, he added.
Sohail said the country's top decisionmakers finally conveyed their intentions to approach the International Monetary Fund (IMF) for a bailout package, with the fund showing its willingness to work on the finer details of a new programme. This announcement earlier in the week resulted in a large nosedive in rupee value against the greenback, which slightly recovered later in the week, he added.
"The Financial Action Task Force (FATF) team conducting a review on Pakistan's progress on compliance with the framework's guidelines signalled that the country needs to do more work to be fully compliant and gain removal from the grey list in the next review, which hints at increased tightening on scrutiny of financial transactions, hence negative ramifications for the economy," he remarked.
He further informed that among individual scrips, K-Electric managed to garner some interest towards the end of the week on the back renewed expectations of the government giving a final go-ahead to Shanghai-Electric for completion of the long-pending sale of the electric utility.
"We expect the market to remain under duress as negative news manages to far outweigh any positive developments while the market forces continue to factor in the impact of lower rupee, higher inflation and interest rates," said an analyst from Habib Metrofinancial Service. "We recommend spare liquidity in portfolios with a preference for high quality picks once the ongoing volatility is over."