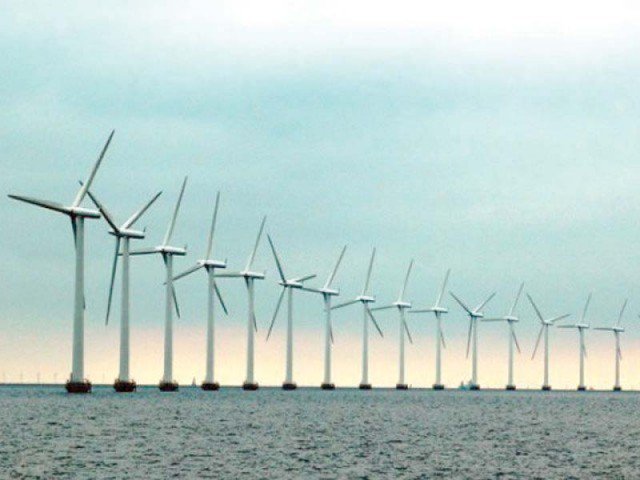 Danish envoy says Pakistan should establish an 'energy police force' that could address the problems of electricity theft
KARACHI: Denmark has offered to finance new wind power projects in Pakistan on concessional terms in order to help the latter lessen its reliance on expensive fossil fuels for power production.
"Keeping in mind our aim of 100 per cent electricity generation on the basis of renewable energy resources by the year 2030, we can offer you financing for your wind power projects on concessional terms. For some projects, we can even offer zero per cent interest rate," said Ambassador of Denmark to Pakistan Rolf Michael Hay Pereira Holmboe during his recent interaction with newsmen in connection with the 3rd International Wind Energy Summit held in Karachi.
The Danish ambassador highlighted that the construction of wastewater treatment plant in Faisalabad, in which Denmark was co-financing with an investment of $100 million to $150 million, was one such instance of financial support from his country to Pakistan.
"But the issue of circular debt is really a showstopper in Pakistan as it would discourage all foreign investment and hamper the growth of the sector," he mentioned.
The Danish envoy said that Pakistan should establish an "energy police force" that could exclusively work to catch and fine people involved in electricity theft so as to tackle the issue of circular debt. "In some countries, there is a parking police that goes after people who park their vehicles at wrong places. Pakistan needs a similar force can streamline the energy sector," he suggested.
The issue of electricity theft has to be dealt with immediately, as no sector can improve unless the misusers/bottlenecks/miscreants are not fined and punished, he said, adding that they law regarding electricity theft should be strengthened in line with other developing countries of the world.
He said that Denmark at present was generating 60 per cent electricity through renewable energy resources and was aiming to generate 100 per cent electricity through alternative resources by 2030.
"The way we are progressing, we expect to achieve this target even before 2030," said the Danish diplomat. "Forty years ago we were exactly at the same position where you stand right now, that is only five per cent power generation on basis of renewable energy. But we are now at 60 per cent. It is a completely different situation now as you can easily handle the issue of variants involved in the process."
He said Denmark had been producing wind energy more than any country but even then, they faced 27 minutes of power load shedding every year.
"Most parts of our country haven't experienced load shedding for last five to 10 years," he said. "Then we have also the company that is a world market leader in manufacturing of wind turbines."
The Danish envoy said that Pakistan should go for the bidding of wind energy projects of much bigger generation capacity up to 400 Megawatts if it wanted to avail lowest prices of renewable energy for powers consumers through the process of competitive bidding of tariff.
He said that the policy and regulatory framework governing the renewable energy sector should be clear, consistent, and most viable for the sector's growth.
"Instead of two to three agencies looking after the renewable energy sector, there is need to have a one-umbrella organization to deal with all the issues pertaining to the sector. In that sense Pakistan's regulatory system definitely needs fine-tuning," Ambassador Holmboe concluded.