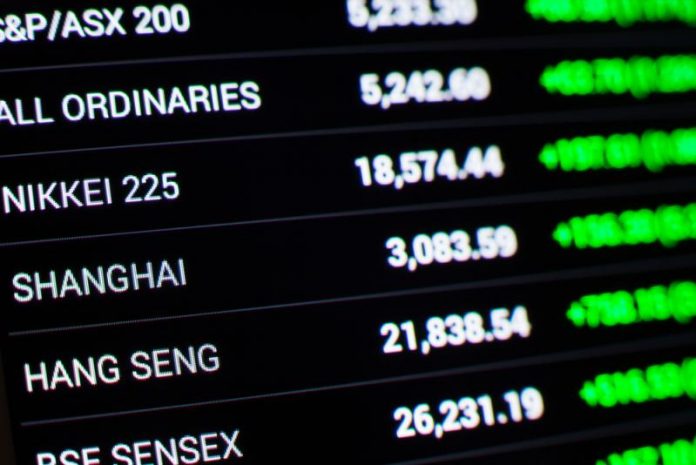 TOKYO: Asian stocks rose on Thursday as bruised investor sentiment got some relief from another robust Wall Street session, while the pound rallied on a report Britain has secured a deal that would give its financial services firms continued access to European markets after Brexit.
MSCI's broadest index of Asia-Pacific shares outside Japan rose 0.9 percent, adding to modest gains the previous day, though this came after a brutal October month.
The index had fallen 10.2 percent in October, its worst monthly performance since August 2015, as factors ranging from Sino-U.S. trade tensions to worries about global economic growth, higher U.S. interest rates and company earnings spurred volatility in global markets.
There were tentative signs of the gloom slowly beginning to lift, led by a rebound in beaten-down U.S. shares.
Wall Street rose for a second day on Wednesday as strong company results and bargain hunting of beaten-down technology and internet favourites lifted spirits.
The improved mood filtered down to Asia. Hong Kong's Hang Seng rose 1.5 percent and the Shanghai Composite Index climbed 1.2 percent.
Australian stocks also advanced 0.5 percent while South Korea's KOSPI put on 1 percent. Japan's Nikkei bucked the trend and slipped 0.5 percent following two days of big gains.
The pound surged 0.65 percent to $1.2850 after the Times reported that British Prime Minister Theresa May had sealed a deal with Brussels that would give British financial services companies continued access to European markets after Brexit.
The bounce lifted the pound – dented recently on worries over whether Britain could secure an orderly exit from the European Union – further away from a 2-1/2-month low struck on Tuesday.
Sterling's rally nudged the dollar off its recent peak. An index which measures the U.S. currency's strength against a basket of six major currencies was down 0.25 percent at 96.899.
The dollar index had spiked to a 16-month high of 97.20 overnight on a ADP national employment report which showed that U.S. private sector payrolls increased by the most in eight months in October.
The greenback has recently enjoyed a boost from robust economic reports, including data last week which showed the U.S. economy slowed less than expected in the third quarter.
The euro rose 0.25 percent to $1.1336, given a reprieve after retreating to $1.1302 on Wednesday, its lowest since mid-August.
The single currency has been weighed by less-than-stellar economic news from the euro zone region.
The Australian dollar advanced 0.55 percent to $0.7112 after strong domestic trade data helped offset some of the concerns about slowing growth in China – Australia's biggest trading partner.
China's yuan strengthened a touch to 6.9680 per dollar in onshore trade, but still not far off a decade low at 6.9780 hit the previous day on trade tensions and slowing Chinese growth.
The People's Bank of China on Wednesday said it will issue bills in Hong Kong for the first time, which would allow it to absorb excess yuan liquidity in the onshore and guide market expectations.
In commodities, U.S. crude futures were down 0.3 percent at $65.11 per barrel and Brent crude lost 0.37 percent to $74.76 per barrel.
The two benchmarks remained on the back foot after falling more than $10 from a four-year peak reached early in October as the global market tumult last month was seen hurting demand for fuel.