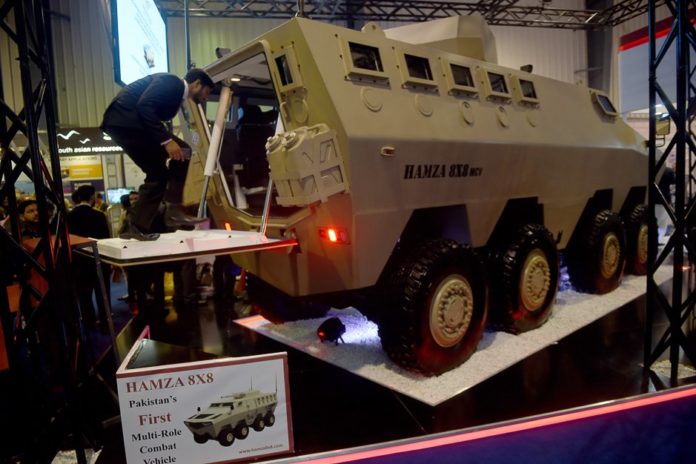 As many as 522 exhibitors from 50 countries will showcase their latest technological innovations
KARACHI: The 10th edition of International Defence Exhibition and Seminar (IDEAS 2018) is scheduled to be held from November 27-30 at the Karachi Expo Centre.
The event, as per its traditions, will showcase a number of activities encompassing world's advanced defence technology demonstrations, an international seminar, three conferences by Pakistan Armed Forces, IDEAS Karachi Show, counter-terrorism demo, networking, and business expansions through business-to-business (B2B) and business-to-government (B2G) engagements.
IDEAS 2018 will bring together defence industries from across the globe to showcase their latest technological innovations. A large number of senior civil and military delegations and trade visitors would also be witnessing this year's exhibition.
The exhibition will start on November 27 after a grand inauguration ceremony and will continue till November 30. The first two days have been earmarked for delegations, trade visitors and networking activities. Other highlights include an international seminar on the emerging global and regional environment, and Pakistan's perspective on the role of grey hybrid warfare.
Renowned national and international subject matter experts will present their scholarly papers on the topic. Chairman Joint Chiefs of Staff Committee Gen Zubair Mahmood Hayat will be the keynote speaker.
Another significance of IDEAS 2018 is the holding of exclusive land, maritime and aviation conferences by Pakistan Army, Navy and Air Force respectively. The conferences will be hosted by the respective service chiefs.
In order to specially mark the 10th edition of IDEAS 2018, the Ministry of Pakistan Postal Services would issue a commemorative postal stamp of Rs10. These tickets will be available for sale from November 27 at major post offices. In addition, two Russian Naval Ships are also visiting Pakistan for port call during the exhibition.
New inventions of Pakistan's defence industry through Pakistan Ordnance Factories, Global Industrial Solutions, Military Vehicles Research and Development Establishment, Shibli Electronics, Universal Smart Military Systems and Daudson Armoury will also be inaugurated and showcased during the exhibition.
IDEAS 2018 has surpassed all previous milestones in terms of space, booking, exhibitors and delegates both domestic and foreign. Karachi Expo Centre has been booked to its full capacity with 522 exhibitors from 50 countries including Pakistan.
Besides trade visitors, more than 262 high-level delegations from 51 countries are visiting the exhibition. China, Czech Republic, France, Germany, Italy, Jordon, Pakistan Poland, Russia, South Korea, Turkey, UAE, Ukraine and USA are establishing their exclusive country pavilions.
Meanwhile, there are hundreds of high-level B2B and B2G meetings planned on the sidelines between foreign delegates, key government officials and participants of the exhibition.
Moreover, IDEAS Karachi Show has been planned especially for the people of Karachi on November 29 at Nishan e Pakistan, Sea View. In addition, November 30 has exclusively been reserved for public visits.